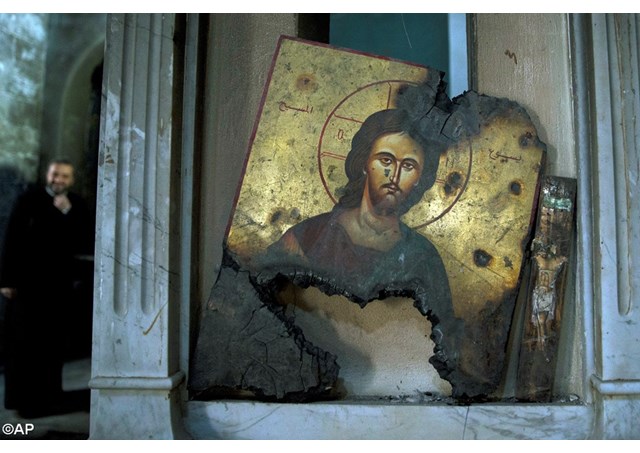 (Vatican Radio)  Just weeks after the historic meeting in Havana between Pope Francis and Orthodox Patriarch Kirill of Moscow, their two Churches are for the first time joining forces to provide humanitarian assistance to the Middle East's Christians suffering from conflict and to rebuild churches damaged or destroyed during Syria's five year war.
A joint Vatican and Moscow Patriarchate delegation visited Syria and Lebanon 6-7 April to coordinate humanitarian aid for refugees and the displaced and begin drawing up a list of Christian sites in need of repair.
Urgent measures needed to improve conditions of Middle East's Christians
In a statement, the Department for External Church Relations of the Russian Orthodox Church said  "everyone knows that the tragedy in the Middle East, which has caused suffering to different Christian denominations and other groups, and the need to take urgent measures to improve the situation there were the focus of the meeting in Havana 12 February 2016."
 The comuniquè further states "the need to draw up a detailed list of Christian places destroyed and damaged during the war in Syria and the strengthening of the common Christian witness of the Syrian tragedy have been recognized as a short term priority."
The delegation visited refugee camps and met with local church leaders. The envoys included Hieromonk Stefan (Igumnov), secretary of the Department for External Relations of the Patriarchate, and Msgr. Paolo Pezzi, the Latin rite Archbishop of the Mother of God Archdiocese in Moscow, and representatives of the charity Aid to the Church in Need.
In an interview with a Russian news outlet, Hieromonk Stefan described as "unprecedented" the joint humanitarian effort in favor of the Middle East's Christians;  "this is undoubtedly a result of the agreements reached in Havana."