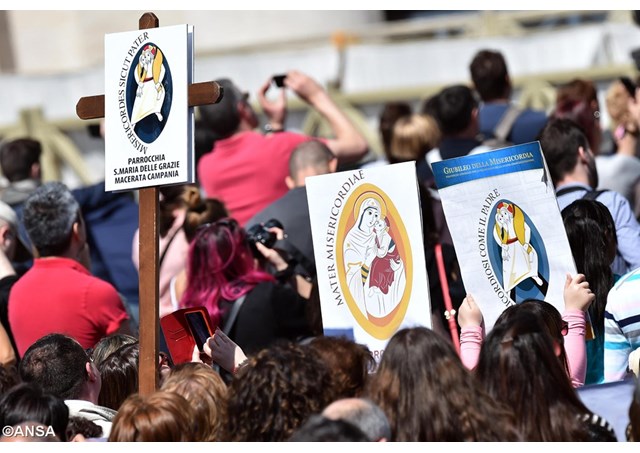 (Vatican Radio) Pope Francis prayed the Regina coeli with pilgrims and tourists gathered in a sun-drenched St. Peter's Square at noon on Sunday. In his remarks ahead of the traditional Eastertide prayer of Marian devotion, the Holy Father reflected on the Gospel reading of the day, which tells of Our Lord's third appearance to the disciples following His resurrection, and the episode of the miraculous catch of fish, in which the disciples, returned to their old workaday lives, encounter the Risen Jesus on the shore of Lake Galilee.
Click below to hear our report
"The presence of Jesus," explained Pope Francis, "transforms everything: darkness is overcome by light; vain labor is made once again fruitful and promising; the sense of fatigue and abandonment gives way to a new élan, and to the certainty that He is with us."
The Pope went on to say that the renewal of hope and missionary spirit, which the disciples experienced then, are with the Church still today.
"If it may seem, by a superficial glance, that the shadows of evil and the weariness of everyday life have the upper hand, the Church knows with certainty that the light of Easter shines with undimming brilliance on all those who follow the Lord Jesus."
Pope Francis concluded his remarks with an exhortation: "May the Lord renew Paschal faith in us as well: may He make us ever more aware of our mission in service of the Gospel and of our brothers and sisters; may He fill us with the Holy Spirit so that, sustained by the intercession of Mary, we might with all the Church proclaim the greatness of His love and the richness of His mercy."