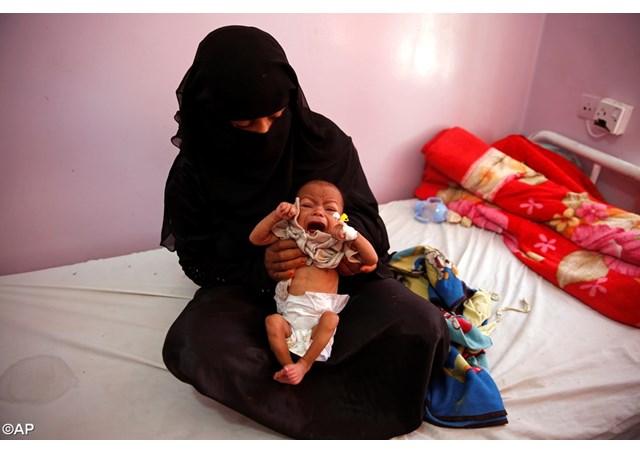 (Vatican Radio) The charity, Save the Children, says the peace talks in Yemen are the last chance to prevent the nation's dire humanitarian crisis from continuing its slide towards a famine. The warring parties in Yemen have agreed to a cessation of hostilities from April 10th and the opening of peace talks on April 18th. The charity's warning comes on the heels of a recent UN report that said nearly half of Yemen's provinces are on the verge of famine and 82 percent of the population has a desperate need of humanitarian assistance to get by.  
Save the Children says over 320,000 children face severe malnutrition in Yemen and the conflict that has raged there over the past year has exacerbated this already dire humanitarian crisis. Grant Pritchard is Director of Advocacy and Communications for the charity and is currently in Yemen. He told Susy Hodges that Yemen's conflict with its devastating consequences for the population is a "forgotten crisis."
Listen to the interview with Grant Pritchard of Save the Children:
The spread of hunger amongst Yemen's population, especially its children, has been one of the most heart-breaking and horrific consequences of the nation's war that pits Shiite Houthi rebels against the Saudi-led coalition. 
"Crisis deteriorating by the day"
Pritchard noted that Yemen was a country that already had one of the highest malnutrition rates in the world before the war and said that according to UN figures the number of people considered severely food insecure or "unable to put food on the table without outside help" went from 4.3 million to more than 7 million over the past 12 months. This grave humanitarian crisis, he warned, is continuing to "deteriorate by the day."
While welcoming the peace talks and cessation of hostilities Pritchard pointed out that the scale of human suffering in Yemen is already staggering and said economists estimate that the nation's development has been "pushed back by a decade" as a result of this conflict. Noting there are thousands or tens of thousands of Yemen's children "going hungry and thirsty every day, he stressed, "There's a desperate need for peace."  
Peace talks: "last chance"
Asked about the risk of Yemen continuing its slide towards a famine situation if the peace talks were to fail, Pritchard is in no doubt that these talks represent "the last chance" in terms of preventing this from happening.  
Put simply, a halt to the fighting can't come a moment too soon for Yemen's suffering population.