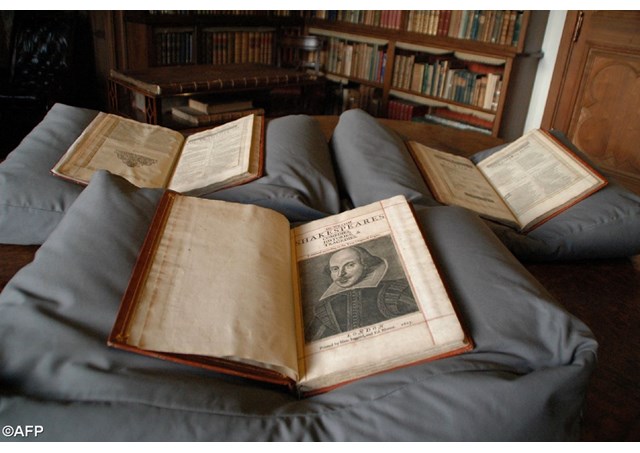 (Vatican Radio) A rare copy of a first edition of William Shakespeare's collected plays has been found at a stately home on the Isle of Bute in Scotland. Experts consider the First Folio, as such editions are known, the definitive text for 36 plays written by the playwright.
They include "Macbeth" and "Twelfth Night".
The nearly 400-year-old edition found at Mount Stuart was authenticated by Emma Smith, professor of Shakespeare Studies at Oxford University.
Speaking to Lydia O'Kane, she gave her reaction to this rare find saying, "These are amazing charismatic books, I've seen quite a number of them, but to see one we didn't know we had and to be involved in authenticating it was a real thrill."
She also said that without this folio half of Shakespeare's work would have been lost.
"We wouldn't have Macbeth, or The Tempest, or Antony and Cleopatra or Twelfth Night; lots of plays would have been lost and in fact the majority of plays by all writers not just Shakespeare from this period haven't survived because they were never printed."
The discovery is especially significant as this year marks the 400th anniversary of Shakespeare's death on 23rd April 1616.
The three leather-bound volumes, bring the total of known surviving copies in the world to 234.
According to the British Library, they were arranged and first published in 1623, seven years after the playwright's death.
The folio will be on display for the first time at the Mount Stuart stately home in Scotland from Thursday 7th April as part of an exhibition that will run until 30th October.