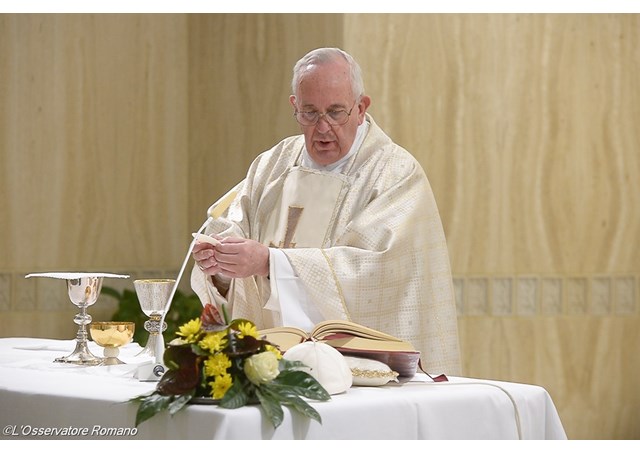 (Vatican Radio) Pope Francis on Monday celebrated the Feast of the Annunciation encouraging the faithful to open their hearts to God and to say 'yes' to his message of salvation.
Speaking during the homily at morning Mass the Pope asked those present to ask themselves the question whether they are men and women who respond to the Lord's call or whether they look the other way to avoid answering.
Listen to the report by Linda Bordoni:
Celebrating Mass at the Casa Santa Marta for the first time since the Easter break, the Pope took his cue from the April 4th Feast of the Annunciation which tells of  Mary's "yes" to God and opens the door to the "yes" of Jesus.  
Pope Francis focused his homily on the chain of affirmative answers that run through the Scriptures.
 
He spoke of Abraham who obeyed the Lord and left his land without knowing his destination and he recalled that "humanity of men and women" – even although many were elderly like Abraham or Moses - "who said 'yes' to hope offered by the Lord."
The Pope also mentioned those who initially refused or hesitated – like Isaiah or Jeremiah – but ended up saying "yes" to the Lord. 
And reflecting on the Gospel reading of the day, Pope Francis said it marks the end of 'this chain' while opening the door to yet another 'yes'.
  
Mary's 'yes' – he explained – allows God not only to look over man and walk with him, but to become one of us and take on our flesh.
"Mary's 'yes' opens the door to Jesus' 'yes': I have come to do Your will, this is the 'yes' that Jesus carries with him throughout his life, until the cross" he said. 
And Pope Francis pointed out that Mary's affirmative answer contains the whole history of salvation.
"Today, he said, is a beautiful day in which to thank God for showing us that path, but also for thinking about our lives"
With a special word for some of the priests present who were celebrating the 50th anniversary of their Ordination, the Pope said "every day each one of us is called to say 'yes' to God". And he asked them to think of how many times they may have chosen to pretend they hadn't heard, and he encouraged them to persevere in always listening to the Lord's voice.
Finally, Pope Francis said, it is God's 'yes' that creates and re-creates the world and man: "It is God's 'yes' that sanctifies us and keeps us alive in Jesus Christ".
He concluded inviting the faithful to thank God for all of this and prayed the Lord to give us the grace to always say 'yes' to His call.