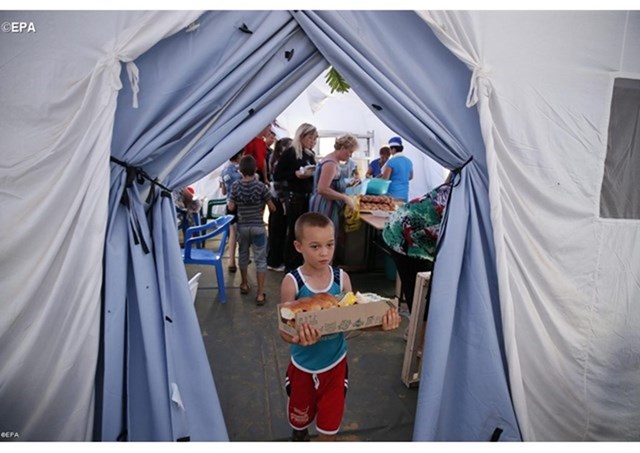 (Vatican Radio) Pope Francis says a special collection will be taken up in all of Europe's Catholic churches on April 24 to raise funds to help the people of Ukraine, which is facing renewed conflict and political tensions. 
Despite a peace deal agreed last year in Belarus, the nation continues to be in dire need of aid amid continuing violence and political turmoil.
Listen to the report by Stefan Bos:
The Pope told tens of thousands of people at the end of a Mass in St. Peter's Square, that the collection was a "gesture of charity that, apart from alleviating material suffering, shows my personal closeness as well as that of the entire Church" to the people of Ukraine.    
The Pope's call for compassion comes at a time when the former Soviet republic remains in turmoil. International observers note that violence has intensified recently in eastern Ukraine between government forces and Russian-backed separatists. 
Officials on both sides say several people have been killed and injured in renewed fighting in recent weeks. Kiev said at least one Ukrainian soldier was killed and eight others injured in the clashes over the weekend.   
It comes as a major setback for negotiators who had hoped that a peace deal agreed last year in Minsk, Belarus, would finally end a conflict that has killed more than 9,000 people. The ongoing clashes have also impacted up to 1.7 million people, including many children, who have fled their homes in Crimea, which was annexed by Russia, and the eastern Donbass region.
POLITICAL UPHEAVAL 
Besides clashes in the east Ukraine also faces a political crisis amid mounting frustration over high-level corruption. 
Attempts to form a new government, which is vital to get billions of dollars in crucial international assistance, collapsed last week. 
Officials initially said Ukraine's three major parliamentary parties had agreed to form a new coalition and nominate parliamentary speaker Volodymyr Hroysman as the new prime minister.
But at the last moment Yulia Tymoshenko, a former prime minister herself, pressed demands such as ending Western-backed reforms, including a tax on pension payments and rolling back energy price hikes, as the price of taking her Fatherland Party into the alliance.
Despite these difficulties, Ukraine's President Petro Poroshenko insists on closer ties with the European Union.  
"DANGEROUS" MOVE
He has expressed concerns about an upcoming non-binding referendum in the Netherlands on whether the country should ratify an association agreement between the EU and Ukraine. "The real purpose for the internal Dutch discussion is about the future of the European Union and internal political clashes," Poroshenko told reporters at the end of a nuclear security summit in Washington.
"I think this is very dangerous for a country of 45 million [people]... to become the victim of this discussion if this referendum would have a negative result, despite of the fact that this is not a binding referendum," he added 
Yet amid uncertainty about their future, many Ukrainians hold on to their Christian faith, encouraged by Pope Francis. 
The vast majority of Christians living in Ukraine are Orthodox but there are about a million Roman Catholics and some four million Eastern Rite Catholics.