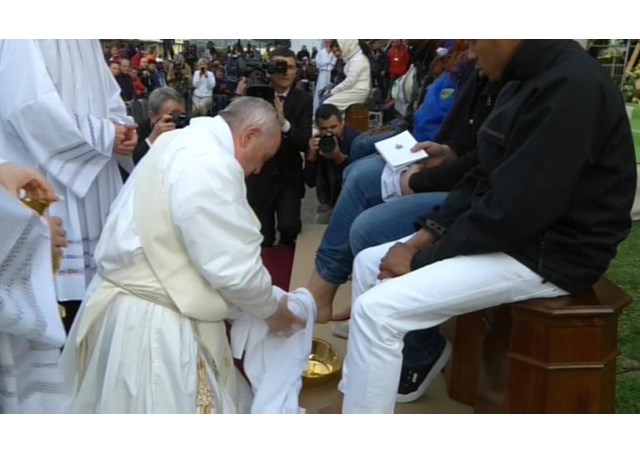 (Vatican Radio) Pope Francis celebrated the Missa in coena Domini – the Mass of the Lord's Supper – on Thursday, leading the Church of Rome into the sacred Paschal Triduum that culminates in the great Easter Vigil in the night between Holy Saturday and Resurrection Sunday.
This year, the Holy Father celebrated the Lord's Supper at a temporary welcome and living facility for refugees and asylum-seekers located on the outskirts of Rome.
At present, the C.A.R.A. Centre – as it is acronymously styled in Italian – is host to nearly 900 asylum-seekers from 25 different countries spread across Africa, Asia, and even Europe.
The Auxilium cooperative is present at the Centre, as well, performing educational, cultural and legal services for the C.A.R.A. guests.
Auxilium was founded by an energetic group of university students from Italy's Basilicata region in 1999, and has grown into a nationwide service organization with international partners.
Service was a major theme of the Holy Thursday liturgy: Pope Francis, in imitation of Christ at the Last Supper, performed the ritual washing of the feet of a dozen people – eleven guests of the C.A.R.A. Centre and one woman who works at the Centre for Auxilium. Four of the guests taking part in the ritual were Nigerian Catholics, three others – all three women – were Coptic Christians from Eritrea, three others were Muslims from Syria, Pakistan and Mali, and one was an Indian Hindu.
The majority of the guests at the facility are Muslim, and there are many Protestants and Coptic Christians as well – though the Auxilium group that operates the Centre – since 2014 – informs that there has never been any tension as a result of the religious diversity of the guests, and that among all the guests and Auxilium staff there was enormous enthusiasm for the Papal visit.