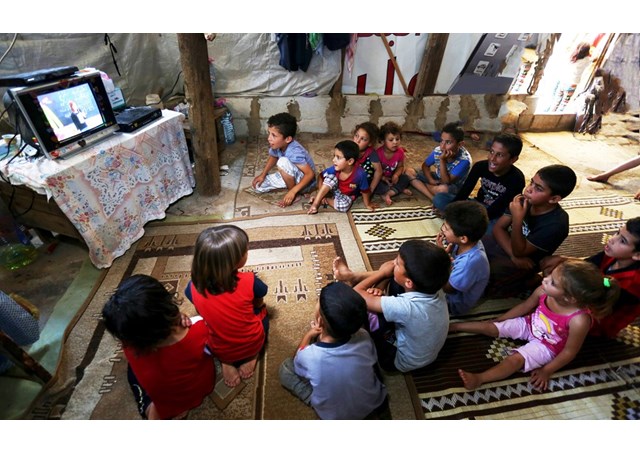 (Vatican Radio) As migration and internal displacement have steadily grown to become the defining issues of our time, projects to keep people in refugee camps informed and included such as the one propelled by the SAT-7 Christian satellite TV station are increasingly vital.
SAT-7 does just that – and more – as it broadcasts and features programmes that inform, entertain and build bridges reaching out to millions of viewers in the Middle East and North Africa. 
Targeting Christian minorities in countries like Iraq, Turkey and Egypt SAT-7 broadcasts to the Middle East and North Africa.
The Executive Director of SAT-7 Europe, Asia and Pacific, Kurt Johansen, told Linda Bordoni that SAT-7 is also building bridges and bringing hope to hundreds of thousands of refugees.
He points out  that SAT-7 is celebrating an important anniversary:
"SAT-7 started 20 years ago, on a very small scale. No one had ever done this before: it was just a vision" says Johansen.
Johansen explains that the project got off the ground with next to nothing: "we started in faith, with very little resources, and we only had one hour of programming per week, and after a week we did not know what to do next, so we just repeated the same programme."
But – he continues – to make a long story short, SAT-7 today has five different channels that broadcast 24 hours per day, with studios in Egypt, in Lebanon and in Istanbul.
SAT-7 – he says - currently broadcasts the good news to the whole of the Middle East, North Africa, the Gulf and Europe, in Arabic, in Turkish and in Farsi – the language of Iran.
Johansen explains that the main challenge for the founders of SAT-7 was to reach out to places where there are not many Christians who perhaps are scattered and divided in different denominations and in different countries.
"To have one voice of unity for all these different groups was a challenge. But we have overcome that so today SAT-7 is the voice of the Christians of the Middle East" he says.
He says that their diversity is reflected in the programming, but all together he feels "we can be a tool for the Church to speak about the faith, to speak about love and forgiveness, and about Christ."
Johansen says the TV station produces all kinds of programmes that are directed to audiences of different age groups and interests. But, he says "all programmes have some kind of Christian content; they should be inspirational and also entertaining, because that is the nature of television.
Pointing out that the situation in the Middle East has become more and more difficult, also for Christians who are increasingly discriminated, Johansen says he believes there has never been a more important time to send a message to everyone in the Middle East explaining what Christianity is and telling its story.
"So we are trying to give the Christians a hope – because having a TV station also gives identity and legitimacy – so being there we can explain to everyone what is the role of Christians and we can give Christians themselves comfort and spiritual food" he says.
Johansen admits that SAT-7 has come under attack and that the Cairo studio was actually burnt down some years ago. But pointing out that the whole history of Christians in Egypt is one of persecution, he says the staff there almost expected an attack to happen, and with the help and support of thousands of Christians the studio was re-constructed and re-equipped better than before. A surviving Bible from that fire, conserved in the foyer of the studio, is a memento of that event.
A survey shows that SAT-7 TV counts some 11 million viewers per channel. It also shows that one in three children in Iraq watch SAT-7 with the permission of their parents, and one in four children do so in Saudi Arabia.
He points out that this means that many non-Christians watch the programmes fulfilling the station's wish to act as a bridge amongst diverse communities.
"In many countries a Muslim would never meet a Christian or would never see a Church, would never meet a priest, would never see a Bible. But in the privacy of his own home he can watch SAT-7 and thereby meet the Christians and the Church of the Middle East" he says.
Johansen tells the story of a young refugee child in a camp in Iraq who became separated from her best friend as their families fled violence. Thanks to an appeal she made on SAT-7 TV the girls were able to make contact and finally be reunited.
He says that as migration and the situation of refugees in the Middle East becomes such a defining issue of our time, SAT-7 is making sure it mirrors the situation, raising awareness and reaching out to people who have been separated or have simply lost hope.
Mentioning his presence here in Rome, Johansen explains that the TV station enjoys a fruitful cooperation with several Catholic TV stations in Europe, including TV2000 which is promoted by the Italian Bishops' Conference.
Finally, speaking of plans for the future, Johansen says he is working to set up a new partnership which would provide the TV station with the resources needed to launch an important project: 
"We have a vision for another channel: a teaching channel for refugee children. There are 13 million children who are out of school in the Middle East. This is lost generation, and we have a vision to bring them education, bring them some kind of normality so they can hopefully one day go back to Syria or Iraq, wherever they come from, and continue in school" he says.
At the moment – he concludes: "They have no schools, so we want to give them 'an on-air' school!"