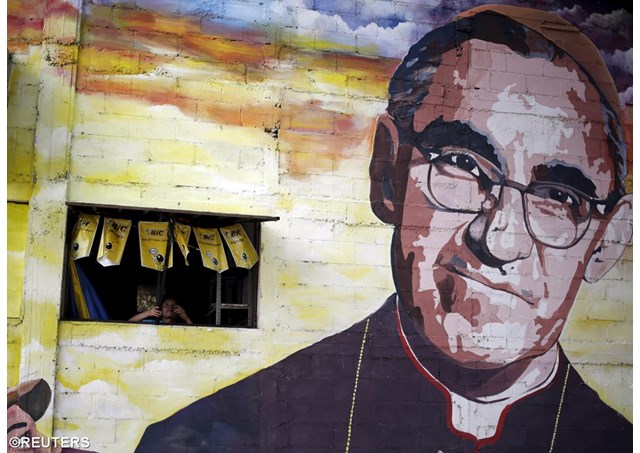 (Vatican Radio) March 24th marks the Church's day of prayer for missionary martyrs, in memory of Salvadoran Archbishop Oscar Romero who was murdered while celebrating Mass on that day in 1980.
During Romero's beatification in San Salvador last May,  March 24th was also recognized as his feast day, yet this year the date marks Holy Thursday and will therefore not be celebrated as an official saints day.
The popular archbishop was gunned down by hired assassins because he had become an increasingly outspoken opponent of the El Salvador's military leadership, making public each week a list of victims of the civil war. His murder came one day after a sermon in which he had called on Salvadoran soldiers to stop killing and carrying out human rights violations.
In many countries across the world Romero has long been revered as 'the voice of voiceless', an inspirational figure for all who give their lives for the Gospel values of human dignity, justice and peace.
As the former director of the English Catholic aid agency CAFOD, Julian Filochowsky knew and worked with Archbishop Romero during his three years as head of the Church in the Latin American nation. Today Filochowsky heads the London based Romero Trust which works to celebrate and share his legacy throughout the Church and beyond.
Philippa Hitchen talked to him about that legacy and about the coincidence of Romero's first feast day falling on the Thursday of Holy Week….
Filochowsky  says that at first sight the timing seems a rather sad coincidence, because "the Triduum naturally takes precedence and the celebration of his feast day will be suppressed".
But if we take a closer look, he says, it is actually highly appropriate, because "Romero was truly a Eucharistic martyr". Firstly, in the sense that he was killed in the middle of the celebration of the Mass but secondly, because he was not a victim but rather "he gave his life freely" making it a Eucharistic martyrdom.
Filochowsky notes that August 15th 2017 will mark the centenary of Romero's birth, adding that there is a "real hope" that Pope Francis may move to canonize the Salvadoran martyr by then.
He also speaks of his hopes for the beatification of Jesuit Fr Rutilio Grande, whose assassination just weeks after Romero was appointed as archbishop had a profound effect on him. "The two are really inextricably linked", Filochowsky says, adding that Pope Francis has repeatedly described Romero as "the miracle" of Rutilio Grande.
Speaking of his continuing legacy to the justice and peace movement today, Filochowsky recalls how Caritas Internationalis added Romero to their list of patrons at the time of his beatification, saying he will surely be venerated by the Caritas family around the world at this time.