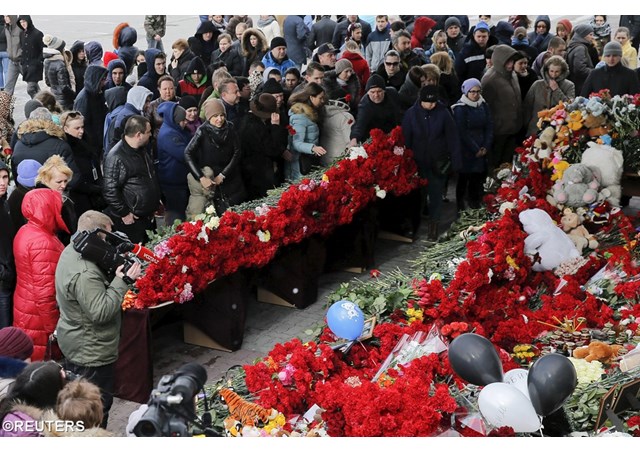 (Vatican Radio)  Aviation experts have begun examining damaged black boxes containing crucial data from the FlyDubai flight that crashed amid high winds at the airport in the southern Russian city of Rostov-on-Don, killing 62 people. 
Pope Francis on Sunday sent a telegramme expressing his sincere condolences to the relatives and friends of those killed in the crash.
Listen to Stefan Bos' report:
Rescue teams have been replaced by investigators at the site of the plane crash to carry out an apparently difficult investigation. Nearby are children's toys in tribute to four children who were among 62 people who lost their lives in the tragedy.
"It makes your heart sink," said one woman arriving with flowers at the memorial site. "We knew many people (on the flight), that's why we all came here. We worked with them."
Yet experts say finding answers will be difficult amid reports that the flight recorders may take a month to decode. Russia's Inter-State Aviation Committee said in a statement that the plane's data and voice recorders had been heavily damaged in the crash.
Yet Sergei Zaiko, deputy chairman of the committee, tried to offer some hope saying in separate remarks that the quality of material on the data recorder was high.
International experts
Officials say the black boxes are being viewed in Moscow by experts from Russia, the United Arab Emirates and France. The American-made Boeing 737-800 plane had French-made engines and questions remain why the aircraft came down. 
The plane, operated by budget carrier FlyDubai, arrived from Dubai and nosedived and exploded in a giant fireball before dawn Saturday after trying to land for a second time in strong winds in Rostov-on-Don.
Officials said the reason behind the crash may have been bad weather, human error or technical problems, though FlyDubai stressed it was too early to determine the cause.  
However ex-pilot Yury Sytnik told Russian television he was concerned about FlyDubai's actions. "Why did the captain circle for two hours. He could have landed at other airports," he said adding that Moscow was "only two hours" away. "Why did he use up all the fuel, so he had to land in bad weather?," the pilot wondered.   
All killed
FlyDubai confirmed that all 62 people on the plane were killed. Most of the passengers were Russian.
Some of the crash victims were from rebel-held areas in eastern Ukraine where fighting between Russian-backed separatists and Ukrainian government troops has killed more than 9,100 people in nearly two years.
The war has turned the region's main airport of Donetsk into a wasteland, and many locals have been using the airport in Rostov-on-Don, across the border.
Rebel authorities in Donetsk said Sunday that two residents had been killed in the crash, while local media reported that a family of three from the rebel-controlled town of Sverdlovsk in Ukraine was among the victims.