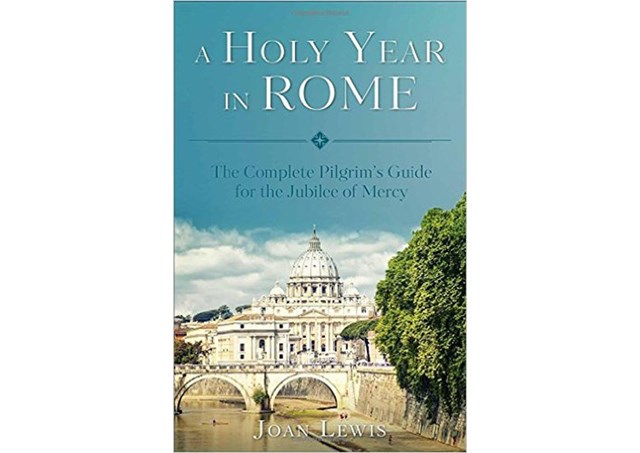 (Vatican Radio) So, you've packed your bags and you've booked your flight and hotel: you are coming to Rome on pilgrimage for the Jubilee Year of Mercy!  If you haven't done so yet, you might want to consider bringing along a companion who knows Rome and the Vatican like the back of her hand: Joan Lewis.
A 3 decade-long Rome resident and veteran Vatican watcher, she's the Joan in 'Joan Knows,' Vatican Radio's weekly program looking at the Pope's activities and Vatican events.  Joan is also the Rome bureau chief for  EWTN, the prominent, U.S.-based Catholic Radio and Television.
Her new book, "A Holy Year in Rome: the Complete Pilgrim's Guide for the Jubilee of Mercy" (Sophia Institute Press) promises a lot, and it delivers.
Joan sat down with Vatican Radio's Tracey McClure and tells us what she hoped to achieve in writing this guide for pilgrims to Rome. 
Listen to hear more about Joan's new Pilgrim's Guide for the Jubilee of Mercy:
"It's as if you and I are walking through the Vatican gardens, through a Holy Door, into some other church in Rome, because there's a chapter called 'And If You have Time,' with very short looks at other magnificent churches in Rome," says Joan.  "It's as if I am physically walking with you and we're talking."
"I want to be your friend and people write me, not even knowing this was my intention, saying 'Oh Joan, it's just like being with you at St. Peter's!'"
In his forward, Bishop Robert Baker of Birmingham, Alabama writes, "no matter how far a pilgrim travels, as he gets close to Rome, he begins to realize that something significant and important is about to happen to his soul.  Young or old, rich or poor, cleric or common laborer, the pilgrim is changed, forever touched by this ancient, yet ever new city."
From a history of Jubilees and Rome's Pilgrimage Basilicas to Tips for Tourists
Joan takes us on a "journey of the spirit," beginning with a brief synopsis of Jubilees throughout  history and Pope Francis' surprise announcement of this year's extraordinary Jubilee Year of Mercy.  The book's 211 pages exude enthusiasm and sparkle with tid-bits of information on the Catacombs, Vatican City State and the papal residence of Castelgandolfo (now visitable to tourists) overlooking Lake Albano outside Rome.
She also gives very useful information on how to book tickets for Pope Francis' weekly General Audience and other papal events and how-to guides for visiting Vatican sites like St. Peter's basilica, the Museums, the necropolis and Castelgandolfo.
There's even a chapter on Joan's own parish of Santa Susanna which is home to Rome's American and English-speaking Catholic community.
Called "Rome's Joan" by her many friends in the Roman Curia, Joan is "often a guest on Catholic radio and a guest lecturer in Rome and the United States.  Pope Benedict named her a Dame of St. Sylvester in 2005.  She is also a Dame of the Constantinian Order and a Lady of the Order of the Holy Sepulchre."