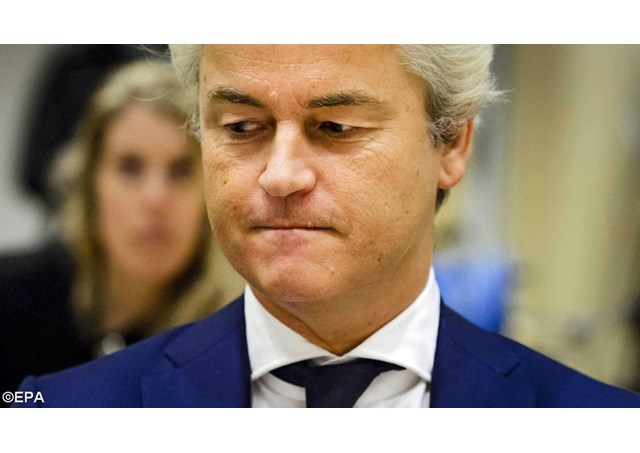 (Vatican Radio) Dutch firebrand lawmaker Geert Wilders has appeared in court for the first public hearing in a hate speech prosecution that is seen as testing the limits of freedom of expression in the Netherlands. The widely watched trial comes while anti-immigrant sentiment is rising
in the country and Europe.
Listen to Stefan Bos' report:



A pretrial hearing at a tightly guarded courtroom on the edge of Amsterdam's Schiphol Airport began with Geert Wilders' anti-Islam Freedom Party leading opinion polls a year ahead of Dutch parliamentary elections.

The case against Wilders, who was acquitted in 2011 of insulting Islam, centers on comments he made before and after in local elections two years ago.

At one party rally in the city of The Hague he asked supporters: "Do you want more or fewer Moroccans in this city and the country?" His supporters replied: "Fewer! Fewer! Fewer!"  That's why Wilders pledged: "We'll take care of it."

Fast forward to the present, Prosecutor Wouter Bos said the case pits two key pillars of the Dutch constitution against one another: A ban on discrimination and the right to freedom of expression.
RACISM, DISCRIMINATION
He said, "the aim of this prosecution is to tackle racism and discrimination," adding that nobody is above the law "including a politician."
 
However Wilders' defense lawyer, Geert-Jan Knoops, argued that the statement was put out of context and said that the freedom of expression was in his words "the last freedom Mr. Wilders has left."

The lawmaker has lived with around-the clock protection for more than a decade because of repeated death threats. He wears a bullet proof jacket wherever he goes.
 
Several experts who were asked to explain Wilders' comments declined to testify in the case, citing security and career concerns.  

Adding to the controversy was Knoops demanding an investigation into how a draft copy of his opening statement had been obtained by a Dutch newspaper, which published parts of it on Friday.
INVESTIGATION DEMANDED
He urged the court to delay the case until such an investigation can be completed. Knoops called the incident "an attack on this case, an attack on Mr. Wilders' freedom to defend himself and freely communicate with his defense team."

Amid the turmoil, Wilders appeared relaxed as he entered the courtroom, pulling out his mobile phone to snap a picture of press photographers taking his picture before the case got underway.

Police confirmed they detained 6 far right protesters after discovering knives and pepperspray in their cars.

Some 100 protesters of the anti-immigrant Pegida group demonstrated outside the court building in support of Wilders, one of them wearing a T-shirt and jacket emblazoned with the text "Wilders for President." The Netherlands, a constitutional monarchy, does not have a president.
Supporters fear Wilders will not get a fair trial. His trial is scheduled to begin on October 31.