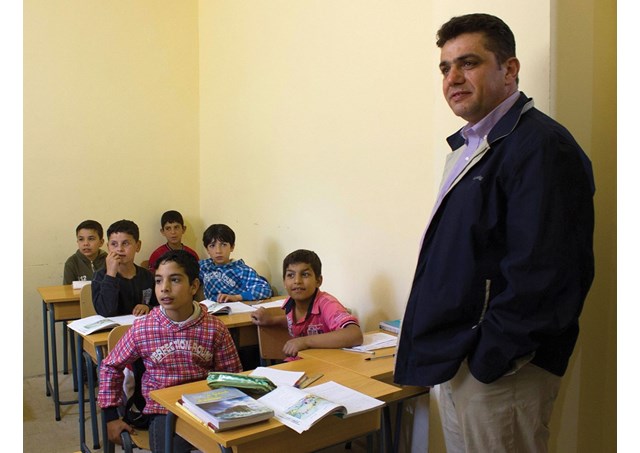 (Vatican Radio)  Children and young people are among the biggest victims of Syria's five-year-old conflict.  According to the U.N. children's fund, UNICEF, 2.4 million refugees from the war are children; thousands of youngsters have been killed and many have been recruited as fighters – some as young as age seven.
UNICEF reports that 2.8 million Syrian children within Syria and in neighboring countries do not attend school – leading some to describe them as Syria's "lost generation."
Education knocks down walls, builds futures of peace
Jesuit Refugee Service (JRS)  has quietly been trying to change the odds against Syria's future generations through its educational programs, some which continue in Syria despite the conflict. 
In an interview with Vatican Radio's Tracey McClure, JRS Country Director for Syria, Fr. Nawras Sammour s.j. says "education is not only about curriculum – it's about values, about giving possibilities to people to accept [the differences of others] ."
Listen to Tracey McClure's interview with Fr. Nawras Sammour:
JRS schools in Syria – a model for peaceful coexistence
In Damascus, Fr. Nawras explains, JRS runs three centers for 800 young boys and girls – most of them Muslim. In Homs, one of the cities hardest hit in the conflict, JRS runs three schools for 1,200 children.  In the Christian valley around Homs, JRS operates another educational center for 350 Muslim and Christian kids and plans are in the works for another program in Aleppo.
"We believe that building the future starts today and it starts with education," asserts Fr. Nawras.  Though from mixed backgrounds and faiths, our students get along with each other, says the Jesuit priest:  "so if they are able to live together, what about the adults?"
Through its Mercy in Motion campaign, sign of its commitment to the Jubilee Year of Mercy, JRS has pledged to increase its educational services to reach 100,000 more of the world's refugees by the year 2020.
"Today, we are all over the world in multi-cultural countries…if  [people] are not able to recognize the differences and inherent value in each person, [these countries] could end up at war like in Syria today," Fr. Nawras adds.
Speaking about Syrian kids in JRS schools, Fr. Nawras asks, " if they are able to live together today and build projects and dream about the future together, why not live together in the future?"
Syria: "today and tomorrow are in our hands" and those of powerbrokers
This is "our way of having a new Syria – a new Syria for everybody."  The "new" Syria, he stresses, "is not going to be the Syria of February 2011 – never again.  It will be the Syria of today and tomorrow.  And today and tomorrow are in our hands."
Syria's future, he affirms, is also in the hands of the international community, especially in those of powerbrokers like the United States and Russia and their regional partners. 
"The only solution is to put an end to the war…it's not going to happen through launching another war."  Peace and a new beginning for Syria can only come, he asserts, through diplomacy and dialogue. 
"The logic of war is not going to lead anywhere…because if we are stubborn to this point, of not having the will [to live together], of accepting the presence of the other and [his/her] differences, it's going to be the end of Syria."
"Each one of us, including myself" concludes Fr. Nawras, needs "to make an historic analysis" and admit we are each at fault for the war and recognize 'I have my share of responsibility.'