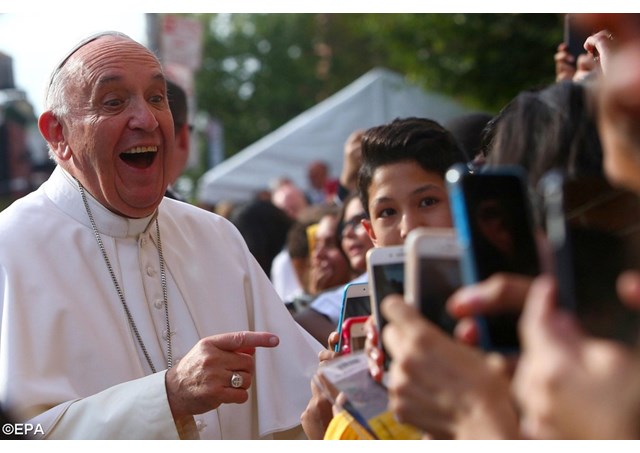 (Vatican Radio)  Three years ago this Sunday (March 13th) Pope Francis, the former Cardinal Jorge Bergoglio from Argentina, stepped out onto the balcony of the Vatican Basilica. His election stunned the world.
Not only was he the first Pope from Latin America, he was also the first Jesuit Pope and the first ever to take the name of Francis.   
Cardinal Vincent Nichols, Archbishop of Westminster, is the head of the Catholic Church in England and Wales and Susy Hodges asked him to reflect on this papal anniversary and analyse the impact of Pope Francis' papacy on the Church and review some of the highlights of these past three years. 
Listen to the interview with Cardinal Vincent Nichols, Archbishop of Westminster:
Cardinal Nichols said that for him one surprising thing about Pope Francis is his "remarkable energy, his vibrant presentation of the gospel" and his "ability to maintain a very full, personal and heartfelt presence." He said he believes the reason for this energy this can be found in the Pope's deep relationship with the Lord.
"Nothing else could give a man of his age the kind of vitality and freshness that he's sustained over these past three years." 
Cardinal Nichols goes on to describe how the Pope Francis' fidelity to the Lord and his message, together with his concern for people, "especially those on the margins of society," is what "captures and enthralls the world."
"Not a reformation of the papacy"
When asked about ways in which Pope Francis has changed the papacy, Cardinal Nichols cautions that "this is not a reformation of the papacy" as some would have us believe. He said there's a "great continuity among the Popes, along with "a freshness" and "difference" with each new incumbent. 
Turning to the question of what challenges face the Church, the English cardinal singled out the Pope's desire to "galvanise" the Church around this Jubilee Year of Mercy, describing this as "an enduring challenge" to make the theme of mercy "a real central characteristic of Catholic life." 
"That's the biggest challenge he sets us," said Cardinal Nichols.