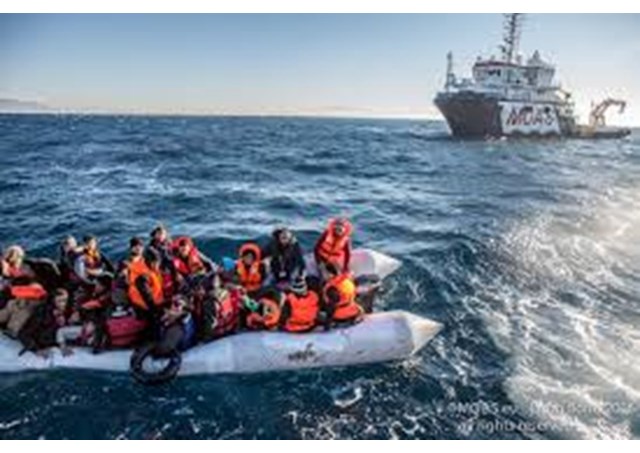 (Vatican Radio) Despite warnings regarding Europe border closures, forced migrants set off from Turkish shores on Thursday in small boats for the dangerous crossing to Greece. 
Five, including a baby, drowned in the attempt.
Almost 1000 forced migrants and refugees are known to have died in the Aegean crossing from Turkey to Greece since the route became popular last year. 
According to the International Organization for Migration more than 350 Greece-bound migrants have drowned this year alone.
In the treacherous waters, together with the struggling Greek and Turkish coastguards, is a privately funded search and rescue operation scouring international waters and saving thousands of lives thanks also to the fact that, in collaboration with the Sovereign Order of the Knights of Malta, a medical team is on board an equipped ship. 
A simple but fundamental detail that allows vulnerable migrants who may have been in icy waters for hours to receive immediate medical attention for hypothermia and other life-threatening conditions.  
MOAS, which stands for Migrant Offshore Aid Station, is an NGO founded by philanthropists Christopher and Regina Catrambone. 
As Regina who lives in Malta told Vatican Radio's Linda Bordoni, a first-hand encounter in the Mediterranean Sea with an unseaworthy vessel filled with migrants seeking a better life marked the beginning of this life-saving venture…
Regina explains that the MOAS project was born in 2013 and consists in a vessel that is equipped with two dinghies, drones (that search for vessels or migrants in difficulty amongst the waves) and a crew of experts including doctors, nurses and rescue divers.
Initially operative in the Mediterranean Sea, "We are present now also in the Aegean Sea and CISOM – The Order of Malta Italian Relief Corps – is involved in the post-rescue operation" she explains.
Regina says that together with her husband Christopher she wanted to step into the crisis with concrete contribution as well as encourage others to take action.
"Each of us has talents and skills, and if each of us put their skills to work to help others" we can make a difference.
She says "global migration is becoming the defining issue of our century. Whether people are fleeing conflict or economic deprivation - or both – people will continue to try to cross border so it is pointless to create imaginary ones, especially out at sea!"
"What we need to do is try to open our hearts and mind and embrace the situation and try to find real solutions with empathy for others, with mercy, with humanity" she says.
MOAS' appeal, Regina says, is to be human and to feel empathy for these people "who are mothers, fathers, children, doctors… people just like us".
Regina speaks of Pope Francis' call for mercy and of her Catholic faith which, she says, is the anchor of her mission.
She remembers two-year-old Khalid who was the first victim by drowning this year in the Aegean Sea on January 1 2016.
Regina says this little boy could have become an engineer, a priest, a doctor, a Pope: "we don't know. What we do know is that he died at sea" as his parents fled conflict and poverty in the illusion of providing him with a future.
For more information on MOAS click here.