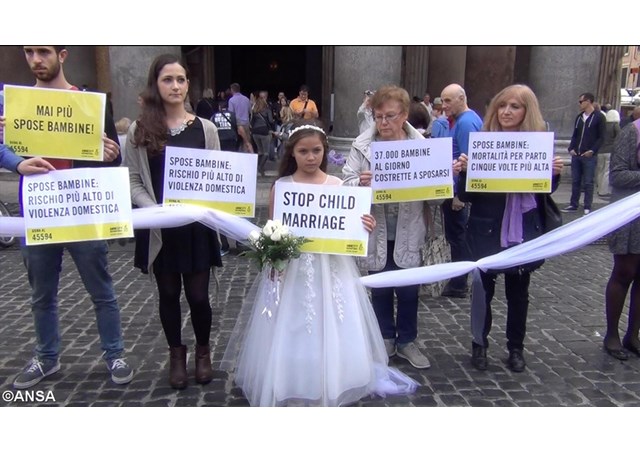 (Vatican Radio)  Two female students and a Salesian priest are among the speakers at this year's 'Voices of Faith' female storytelling event taking place in the Vatican (on International Women's Day March 8th) and have been speaking about the importance of education, particularly for girls, to help prevent them becoming child brides or child labourers.
Each year around 15 million girls across the world are married off while still children but education is seen as a fundamental key in improving the social and economic situation for females and their families. Caroline and Judy, both from Kenya, told us how they were able to avoid being married off whilst still in their teens and spoke about their ongoing studies and their ambitions. For his part, Father Menamparampil has spearheaded an initiative to support the education of girls in tribal areas of India by providing partial scholarships to them. Caroline, Judy and Father Menamparampil shared with Susy Hodges their life stories and personal goals and all stressed the vital importance of obtaining a good education.  
Listen to the round-table conversation between Caroline Kimeu Nduku, Judy Onyango, Father George Menamparampil and Susy Hodges: 

Now 21 and about to enter university, Caroline Nduku from Kenya described how she was initially forced to stop her education at the age of 14 and found herself with two options – either to get married or become a child labourer. Having seen the suffering and "miserable life" of her older sisters who were both the victims of early marriages, Caroline decided she was not going to follow that path and moved to Nairobi where she eventually was able to continue her schooling thanks partly to her "passion" for education.    
Judy Onyango is also from Kenya and is studying for an MBA. Like Caroline, she came under pressure to marry early when her father's death plunged her family into dire poverty. She resisted that pressure and received financial help from the church and friends to continue her education. Judy told us she wants "to be a role model to empower as many other girls as possible" to follow her path and described how education has given her "so many positive things" as well as self-respect and influence.  
Born in Kerala, India, Father George Menamparampil is a Salesian priest who has served the disavantaged peoples (mostly indigenous tribes) of North East India and Bhutan for the past 48 years. He also heads the fundraising arm of Don Bosco India which runs over 300 schools and nearly 50 collages across the country. When asked why he feels so passionately about the cause of education for girls, Father Menamparampil explained that in many parts of India, girls are "looked down upon, exploited and abused" and often "don't have an identity of their own" but instead are viewed as the daughter, or wife or mother of a man and because of this discrimination are unable to fulfil their "full potential."