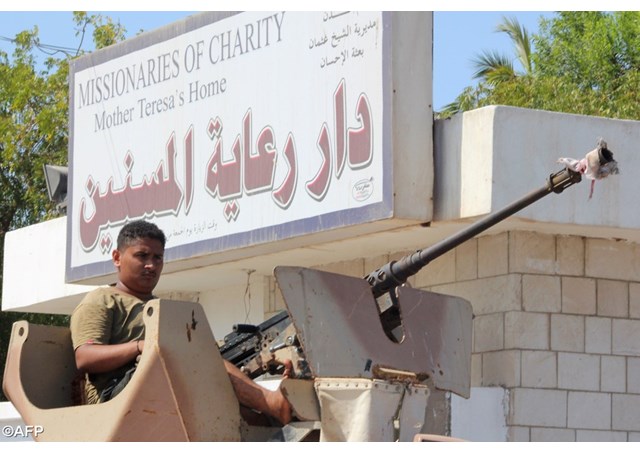 Four gunmen attacked an old people's home in the Yemeni port of Aden on Friday, killing at least 15 people, including four Missionaries of Charity nuns of Mother Teresa, the Apostolic Vicariate of Southern Arabia told the Vatican's Fides news agency.  The Vicariate said two of the slain nuns were from Rwanda and one each from India and Kenya.  One nun who survived and was rescued by locals said that she hid inside a fridge in a store room. 
The gunmen, who first told the guard they were on a visit to their mother, stormed into the home with rifles and opened fire, one local official said. As well as the nuns, the dead included two Yemeni women working at the facility, eight elderly residents and a guard. The motive of the gunmen was not immediately known. They fled after the attack, the official said. The bodies of those killed have been transferred to a clinic supported by medical group Medecins Sans Frontieres, medical sources said.
There are around 80 residents living at the home run by Missionaries of Charity. The nuns also came under attack in Yemen in 1998 when gunmen killed three of them in the Red Sea port city of Hodeida.  
Yemen's embattled government is based in Aden but has struggled to impose its authority there since its forces, backed by Gulf Arab troops, expelled Iran-allied Houthi fighters who still control the country's capital, Sanaa. Once a cosmopolitan city home to thriving Hindu and Christian communities, Aden has gone from one of the world's busiest ports as a key hub of the British empire to a largely lawless backwater. Aden's small Christian population left long ago. Unknown assailants have previously vandalised a Christian cemetery, torched a church and last year blew up an abandoned Catholic church.