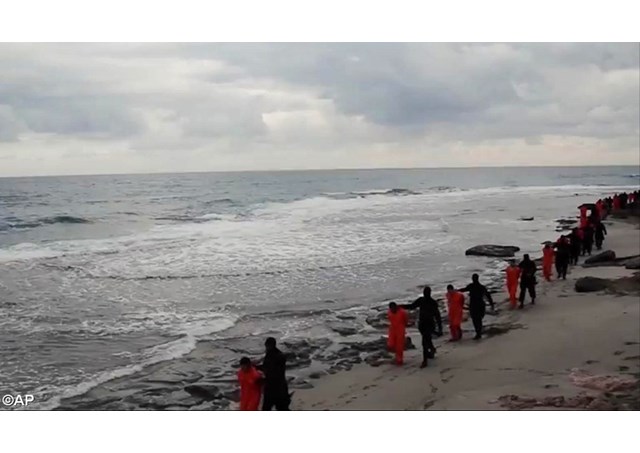 (Vatican Radio) Monday 15 February marked one year since video surfaced of the murder of 21 Orthodox Coptic Christians on a beach in northern Africa. The men were marched in orange suits across the beach, forced to kneel and then were beheaded by militants of the so-called Islamic State.
Listen to Alexander MacDonald's report:
It is impossible to forget the images of the atrocity seared into the public imagination but the Egyptian Coptic community is celebrating the memory of their martyrdom this week with prayer meetings, liturgies and reflections, culminating in a solemn liturgy on Tuesday.
The event is organized by the Coptic Orthodox diocese of Samalout in which most of the victims lived. 
The last words of the 21 martyrs was the name of Jesus and Pope Francis, at the time, recalled their heroic testimony of faith.
Speaking in Spanish, the Holy Father noted those killed only asked for the help of Jesus. "They were killed simply for the fact they were Christians," Pope Francis said. "The blood of our Christian brothers and sisters is a testimony which cries out to be heard. It makes no difference whether they be Catholics, Orthodox, Copts or Protestants. They are Christians! Their blood is one and the same. Their blood confesses Christ.''
Pope Francis said that in remembering these brothers and sisters who have been murdered simply for confessing Christ, Christians should encourage one another in the ecumenical goal. There is, he said, an "ecumenism of blood."
Coptic Catholic Bishop Anba Antonios Aziz Mina also remarked at the time that as in the passion of the early martyrs, "they entrusted themselves to Him who would receive them shortly thereafter. And so this is a celebration of their victory, a victory that no perpetrator can take from them."
A new church is being built in the diocese to honour their memory.