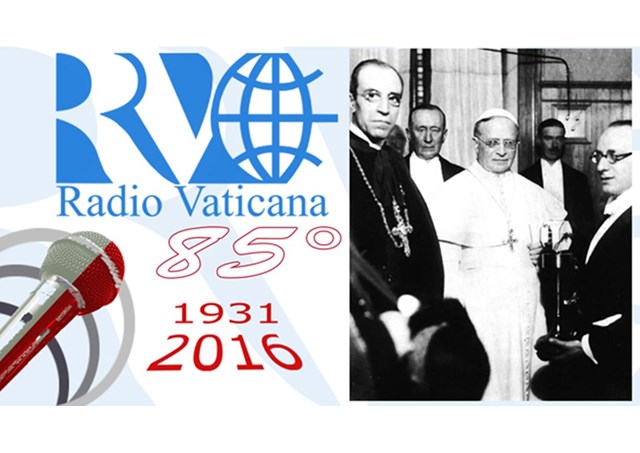 (Vatican Radio) Vatican Radio on Friday celebrated its 85th birthday and its current Director of Programmes, Father Andrzej Majewski, spoke in an interview about its past and future mission.
On February 12, 1931, Guglielmo Marconi – credited with the invention of radio – introduced Pope Pius XI to listeners around the word.
"I have the highest honor of announcing that in only a matter of seconds the Supreme Pontiff, Pope Pius XI, will inaugurate the Radio Station of the Vatican City State," Marconi said. "The electric radio waves will transport to all the world his words of peace and blessing."
Pope Pius XI then read out a Latin text about the Gospel message.
He concluded with these words:  "Listen, O Heavens, to that which I say; listen, O Earth, listen to the words which come from my mouth...Listen and hear, O Peoples of distant lands!"
To mark this anniversary, Vatican Radio has added several videos to its Youtube channel, including the speeches by Pope Pius XI and Marconi.
In the interview marking the 85th anniversary, Father Majewski said the Pope's Radio still has an important role to play nowadays despite technological changes. Today just like yesterday, he said, the Radio speaks to the hearts of people in all parts of the world. He said Vatican Radio is also taking advantage of the social media like Facebook and Twitter in order to dialogue more with its listeners.  Noting, for example, that the English Section of Vatican Radio has more than a million followers on its Facebook page, Father Majewski said these new forms of communication help the Radio to communicate in a more modern way with people.
He said the audio quality of Vatican Radio's broadcasts has improved thanks to the advent of digital radio, known as DAB, and the Vatican Radio's Player will soon be introduced. This, he said, will allow people to follow all the papal ceremonies with commentary in different languages from their phones or computers.
Turning to the planned reorganization and streamlining of the Vatican's media outlets, Father Majewski said this reform, under the leadership of the new Secretariat for Communications, will lead to closer cooperation between the different institutions. One already visible result of this is that Vatican Radio is now able to include video clips in its articles on the websites of the various language programmes.