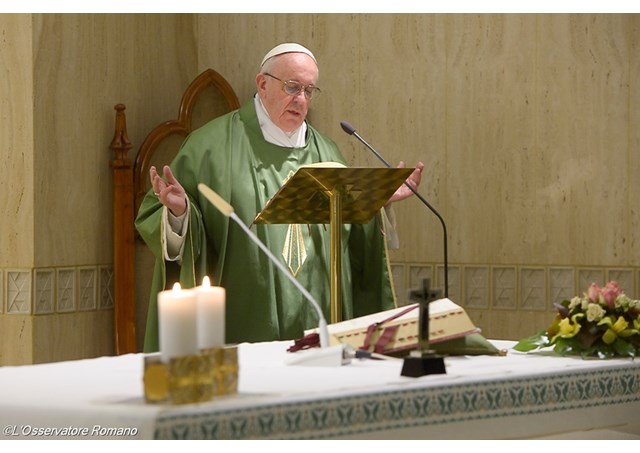 (Vatican Radio) Let us pray to God that the weakness that leads us to sin will never lead to corruption. This was the theme of Pope Francis homily at daily Mass on Friday morning, a theme he has taken up many times. Beginning with the first reading, which tells the story of David and Bathsheba, the Pope distinguished between regular sinners and those who are corrupt. Unlike regular sinners, the corrupt do not feel the need for forgiveness.
Listen to Christopher Wells' report: 
One can sin often, and always return to God seeking forgiveness, never doubting that it will be obtained. It is especially when one becomes corrupt – when one no longer sees the need to be forgiven – that problems begin.
The corrupt feel they don't need God
This is the attitude King David assumes when he becomes enamoured with Bathsheba, the wife of Uriah, an army officer fighting on the frontlines. The Pope outlined the story narrated in the Scripture. After David seduced Bathsheba, he found out that she was pregnant, and he hatched a plot to cover-up his adultery. He recalled Uriah from the front and encouraged him to visit his wife. Uriah, though, did not go to his wife, but stayed with the other officers in the king's palace. David then tried to get him drunk, but this plan also fails.
"This puts David in a difficult position," the Pope said. "But he says to himself, 'I can do it.' He sends a letter, as we read: 'Place Uriah up front, where the fighting is fierce. Then pull back and leave him to be struck down dead.' He condemns him to death. This man, this faithful man [Uriah] – faithful to the law, faithful to his people, faithful to his king – carries his own death sentence."
The security of corruption
"David is a saint, but also a sinner." He falls on account of lust, the Pope said, and yet God still loves him very much. However, the Pope notes, "the great, the noble David" feels so secure – "because the kingdom was strong" – that after having committed adultery he does everything in his power to arrange the death of a loyal man, falsely passing it off as an accidental death in battle:
"This is a moment in David's life that makes us see a moment through which we all can pass in our life: it is the passage from sin to corruption. This is where David begins, taking the first step towards corruption. He has the power, he has the strength. And for this reason, corruption is a very easy sin for all of us who have some power, whether it be ecclesiastical, religious, economic, political… Because the devil makes us feel certain: 'I can do it'."
Sinners, yes; but not corrupt
Corruption – from which David was saved by the grace of God – had wounded the heart of that "courageous youth" who had faced the Philistine with a sling and five small stones. "Today I want to emphasize only one thing," the Pope concluded. "There is a moment where the attitude of sin, or a moment where our situation is so secure and we see well and we have so much power" that sin "stops" and becomes "corruption." And "one of the ugliest things" about corruption is that the one who becomes corrupt thinks he has "no need for forgiveness."
"Today, let us offer a prayer for the Church, beginning with ourselves, for the Pope, for the Bishops, for the priests, for consecrated men and women, for the lay faithful: 'Lord, save us, save us from corruption. We are sinners, yes, O Lord, all of us, but [let us] never [become] corrupt!' Let us ask for this grace."