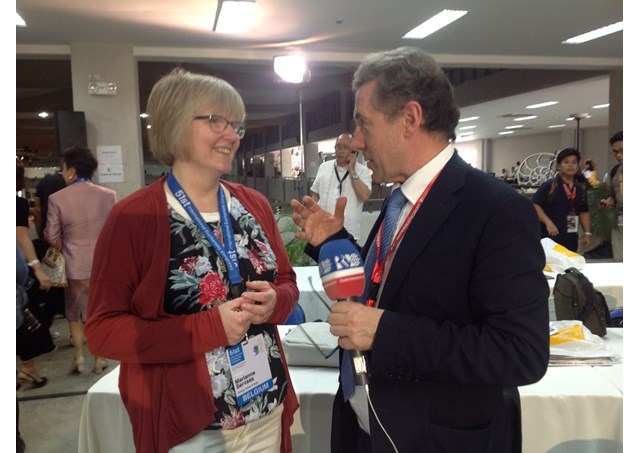 (Vatican Radio)  Marianne Servaas from Belgium is among the thousands of delegates from across the world attending the Church's International Eucharistic Congress (IEC) taking place in the city of Cebu in the Philippines. A mother of four, Servaas was sexually abused as a young child but said she overcame this painful experience and her life is now full of joy and hope after she converted to Catholicism. She spoke to our correspondent, Sean Patrick Lovett, about her life and her faith.
Listen to the interview with Marianne Servaas, a delegate at the IEC:  

Servaas recounted how she grew up in a Christian evangelical family but had a difficult childhood as she was sexually abused from the age of 4 to 14 and her mother was suffering from a terminal illness. She described how she wrestled for many years with the feeling that she didn't fit into her evangelical background, especially after she came to live in the Philippines with her husband where she was confronted by "this incredible sense of joy" among the nation's population.  
On returning to Belgium, Servaas was invited to an Easter Vigil by some friends and that was when she "fell in love with the Eucharist" and therefore with the Catholic Church. She told us how being a Catholic has made her "more human" and how her faith has given her so much joy and hope. 
Speaking about contemporary society, Servaas said she believes we are "loosing our trust" here in the Western world with so many people distrustful of each other and of other people's ideas and having a tendency not to look at life or at reality in order to learn true wisdom.