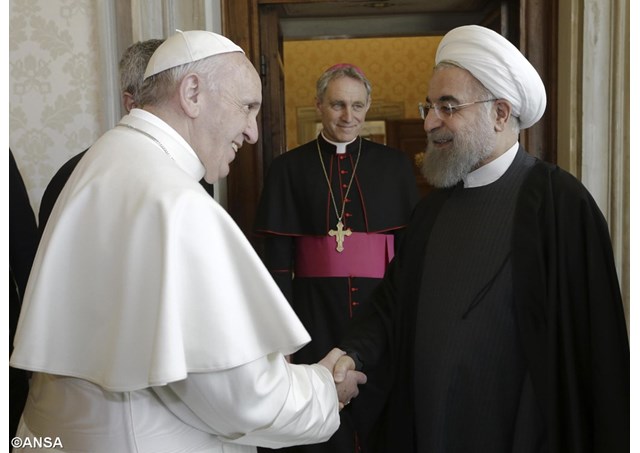 (Vatican Radio)  Pope Francis on Tuesday received in audience at the Vatican, Iranian President Hassan Rouhani and the two leaders held talks on problems in the Middle East, the fight against terrorism, interreligious dialogue and arms trafficking and other issues.
The meeting between the Pope and President Rouhani is the first of its kind since 1999 when Pope St. John Paul II received in audience at the Vatican the then Iranian president Mohammad Khatami.
A statement released afterwards by the Holy See's Press Office said Pope Francis and President Rouhani discussed bilateral relations, problems afflicting the Middle East area including the recently-signed Iran nuclear agreement and other international issues. Following his 40-minute private audience with the Pope, President Rouhani met with the (Vatican) Secretary of State Cardinal Pietro Parolin who was accompanied by Archbishop Paul Gallagher, Secretary for Relations with States. 
The Vatican statement said "during the cordial discussions, common spiritual values emerged and reference was made to the good state of relations between the Holy See and the Islamic Republic of Iran, the life of the Church in the country and the action of the Holy See to favour the promotion of the dignity of the human person and religious freedom."
"Attention then turned to the conclusion and application of the Nuclear Accord and the important role that Iran is called upon to fulfil, along with other countries in the region, to promote suitable political solutions to the problems afflicting the Middle East, to counter the spread of terrorism and arms trafficking. In this respect, the Parties highlighted the importance of interreligious dialogue and the responsibility of religious communities in promoting reconciliation, tolerance and peace."
Following their talks, President Rouhani gave the Pope the gift of a hand-made rug from the Iranian holy city of Qhom and a book with miniatures. The Pope's gift to the Iranian leader was a medal depicting St. Martin cutting his cloak in two to give one half to a poor man to keep him warm and he called the saint's act "a sign of unsolicited brotherhood." He also gave President Rouhani a copy of his latest encyclical Laudato Si.