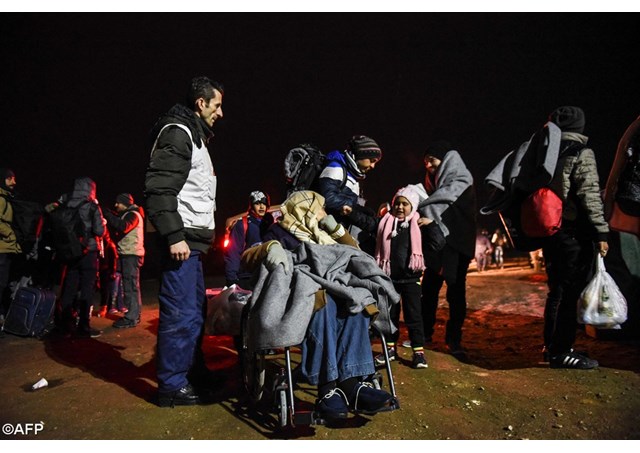 (Vatican Radio)  Officials say the first of a total of more 153 Iraqi Christians who have been offered asylum in the Czech Republic have arrived in the capital Prague, after neighboring Slovakia also agreed to host Christians. It comes amid by European Union concerns however that it is being is overwhelmed by migrants fleeing war and poverty, most of them Muslims.
Listen to Stefan Bos' report:
The Czech government says it approved the Iraqi Christians request for help because they were threatened by the aggression of Islamic State group militants.
Ten of the 153 Christians granted asylum already landed at Prague's international airport Sunday and were to be taken to a hotel near the central city of Jihlava, where they will spend several months. 
They originally used to live near Mosul in Iraq.
In December last year neighboring Slovakia agreed to grant asylum to a group of 149 Christians who live in the same troubled region and face extremism there.
American transport
They have been transported by a fund linked to American television and radio personality Glenn Beck who spoke about the operation to safe Christians who he said had been targeted by the so-called Islamic State group.    
"We are taking to bring Iraqi Christians out of the Middle East with something called the Nazarene Fund," he said. 
"We have raised about 12 million dollars to do it. Our vetting is by far superior to that of the United States, the United Nations or the European Union. And we are thrilled that they are safe and they are actually going to a Mass to celebrate the blessings that Christ has given them."      
Yet the arrival of Christians in Slovakia and the Czech Republic comes amid mounting tensions between the European Union and several Eastern European countries over a plan to divide as many as 160,000 refugees among member states.
Slovakia and Hungary, both predominantly Roman Catholic countries have even launched legal challenges against the plan. 
Catholic support
However a Hungarian Catholic diocese said recently it had offered to take in 1,000 Christian refugees from Syria, but also added that the targeted group had never managed to reach the EU's passport free Schengen border.  
Amid these difficulties, the European Commission says it wants the European Union's Frontex border control organization to help Macedonia screen refugees trying to reach the EU. 
German weekly newspaper Bild am Sonntag said the Commission, the EU's executive, supports a proposal of the Slovenian Prime Minister Miro Cerar for strengthening surveillance and that it would be the first time that Frontex goes to work in a country that is not an EU member. 
Yet there isn't much time left: Austrian Interior Minister Johanna Mikl-Leitner warned Sunday that the country's newly introduced cap on the number of refugees allowed into the country will likely be reached within a few months.
Key nation
Austria is a key country for refugees as it borders the notorious Balkans route.  
Mikl-Leitner told Germany's Welt am Sonntag that the maximum number of 37,500 refugees would probably be reached before the summer.
The Austrian minister warned that once the cap had been reached the country would either refuse to accept further asylum application or reject refugees on the border.
More than 1 million people from countries like Syria, Iraq or Afghanistan entered Europe last year in what has been called the biggest migration to the continent since World War II.