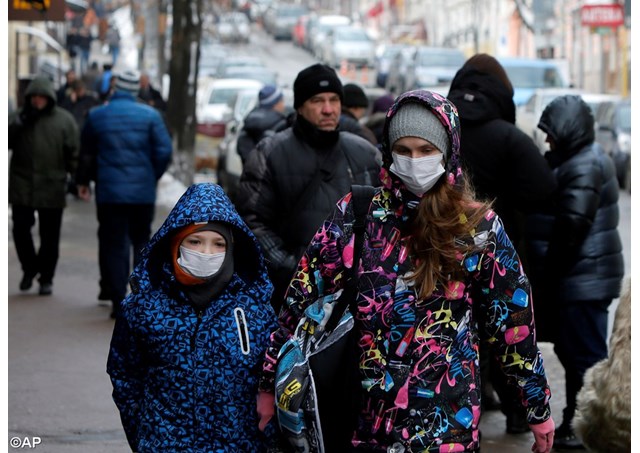 (Vatican Radio) Ukraine and several other former Soviet nations are battling a deadly outbreak of swine flu that has killed scores of people. Schools in Ukraine have been closed since January 16 as part of to stop the swine flu virus from spreading. Kiev says least 51 people have already died of the dangerous influenza more than half of them in war-torn eastern Ukraine where hospitals are lacking adequate medicine as fighting between Russian-backed separatists and Ukrainian government forces apparently impacted deliveries.
Listen to Stefan Bos' report: 
The difficulties faced by hospitals have underscored the need for a permanent ceasefire in the region with the U.S. even pledging to lift sanctions against economically troubled Russia within the next few months if Moscow and Kiev will fully implement a peace deal.
Yet for now, residents in regions of rebel-controlled eastern Ukraine are rushing to local pharmacies to buy respiratory masks and, if possible, medicine amid a new outbreak of swine flu.
Doctors say hospitals lack anti-virus medication and that patients are forced to buy medicine themselves at drugs stores.
Swine flu, also known as the H1N1 virus, is a relatively new strain of an influenza virus that causes symptoms similar to the regular flu, according to experts.
TREATMENT NEEDED
It can be deadly if not treated well and in time. At least one in five people worldwide were infected with swine flu during the first year of the 2009-2010 H1N1 pandemic, and hundreds of thousands of people died at the time, according to international research. 
Experts say the swine flu originated in pigs, but is spread primarily from person to person.
Ukraine's Health Minister Alexander Kvitashvili says the situation in what he calls occupied eastern regions is more severe than elsewhere in the country. "The situation is awful there with medicine and infrastructure. We need to understand that, unfortunately, those good high-tech centres which were built are either not functional or were blown up or robbed," he said.
While more than 50 people died in Ukraine, outbreaks of swine fly have reportedly also killed dozens of people elsewhere in what was once the Soviet Union, including in Armenia and Russia. Swine flu deaths were also reported in Georgia and Kazakhstan.
Yet as eastern Ukraine has been relatively hit hardest, pressure is mounting to fully implement a peace plan for the region.
CEASE-FIRE URGED
The terms of the deal provide for a cease-fire between Ukrainian government forces and Russian-backed separatists, a pullback of heavy weapons, prisoner exchanges, local elections in rebel-held areas in eastern Ukraine, and greater autonomy for these regions.
U.S. Secretary of State John Kerry has already said at the World Economic Forum in Davos, Switzerland, that he believes Washington may be able to consider lifting sanctions it imposed on Russia over its alleged involvement in violence in Ukraine later this year, if Moscow complies with what is known as the Minsk peace deal.
Ironically, the international police organization Interpol has acknowledged that it already removed names of several suspects from the time that Ukraine's pro-Russian President Viktor Yanukovych was in power from its public wanted list, including Yanukovych himself.
Interpol claims it was in response to a legal complaint Yanukovych has filed, prompting an angry reaction from Ukrainian authorities who say he and others linked to violence and other crimes may now freely travel to sunny holiday destinations.  "Now these monsters can easily enjoy life, for example, on the Cote d'Azur in France," said Vitaliy Shabunin, head of Ukraine's Anticorruption Action Center.