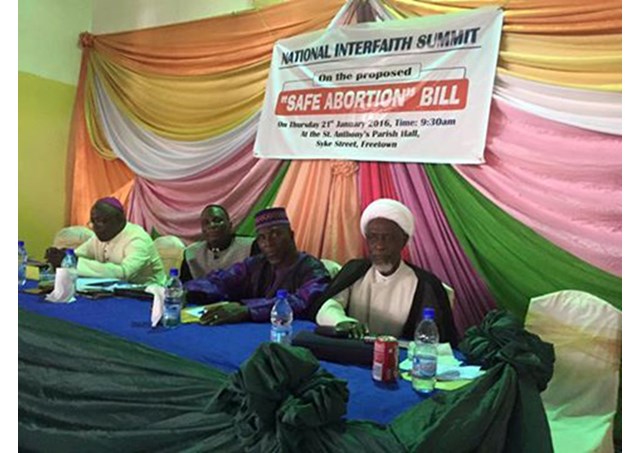 Religious leaders in Sierra Leone met on Thursday 21 Janauary to come up with a common position on a recently passed Bill that legalises abortion in the West African nation.
The national interfaith summit at the St. Anthony's Parish Hall in Freetown is being hosted by the Catholic Church which has spearheaded the campaign against the proposed abortion law.
The Safe Abortion Bill 2015 was passed into an act of parliament on 8 December, five years after campaigners began lobbying for a review of the current law in existence since 1861 which criminalises abortion.
Shortly after it was passed last month, Christian and Muslim leaders under the umbrella of the Inter Religious Council of Sierra Leone (IRCSL) paid a visit to President Ernest Bai Koroma to register their disapproval. On that occasion, the president who had until 6 January to sign it into law promised to send the piece of legislation back to parliament for review.
If it becomes law, the act will allow women to have an abortion during the first 12 weeks of pregnancy. After the 12 weeks, it is only allowed in the cases of rape, incest or risk to the health of fetus or mother. Girls under 18 can have an abortion only with the permission of a parent or guardian.
The Catholic Church teaches that life begins from the time of conception. And that from that time to its natural end (death), human life must be protected and must not be taken either through abortion or euthanasia. 
Festus Tarawalie