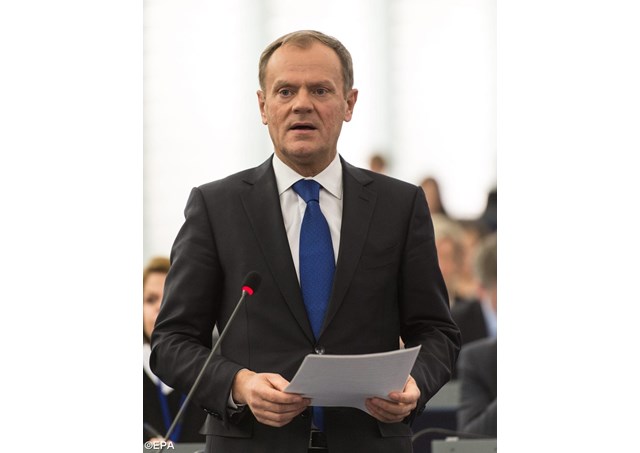 (Vatican Radio)  European Council President Donald Tusk has warned there are just two months left to prevent the possible collapse of EU's passport free Schengen Zone amid Europe's biggest refugees crisis since World War Two. He spoke shortly after several EU countries and Serbia warned of tougher border controls, while several nations expressed opposition towards an EU plan to divide refugees among member states.
Listen to Stefan Bos' report:
The president of the EU's European Council, Donald Tusk told European law makers that the 28-nation block has just two months to sort out its migration policy. He acknowledged that the EU spent most of last year to cope with the arrival of more than 1 million refugees but that few were having a real impact.
Referring to comments made by the Dutch prime minister, Tusk expressed concerns about the future of the EU's passport-free travel area, known as the Schengen Zone.  "I share the sentiments of prime minister [Mark] Rutte that we have no more than two months to get things under control," Tusk said. 
He stressed that a summit of EU leaders in Brussels on March 17-18 "will be the last moment to see if our strategy works." Tusk warned that "if it doesn't, we will face grave consequences such as the collapse of Schengen."
Tougher controls
His remarks came while several countries announced tougher border controls. Austria's interior ministry said Tuesday it would tighten entry requirements later this week for migrants.  Only those seeking asylum in Austria or neighboring Germany will be allowed to enter the country.
That prompted foreign ministers from Slovenia and nearby Serbia to warn that if Austria scales down the influx of refugees, it would cause a domino effect and collapse down the so-called Balkan migrant corridor. Serbia also said that migrants won't be allowed to return to Serbia if turned back elsewhere.
Additionally representatives of neighboring Hungary as well as the Czech Republic, Poland and Slovakia, known as the Visegrad Four group, said Tuesday they rejected a plan to distribute as many as 160,000 migrants fleeing war and poverty among the EU member states.
Hungary and Slovakia have already challenged the EU plan in court. It remains unclear whether the European Union is united enough to overcome these sharp differences.