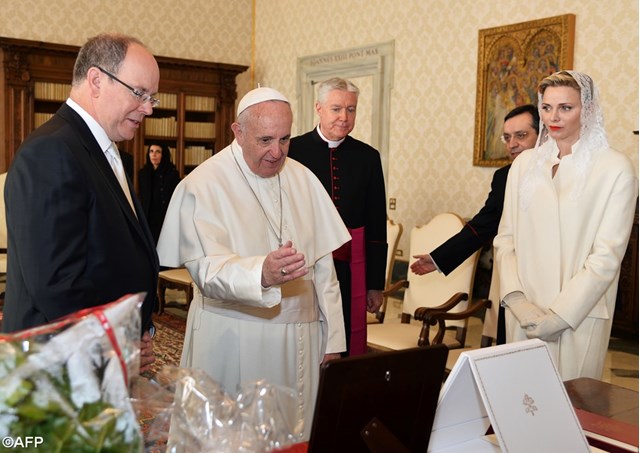 (Vatican Radio) Pope Francis on Monday received Prince Albert II of Monaco, who was accompanied by his wife, Princess Charlene. Subsequently, the Prince met with Cardinal Pietro Parolin, the Vatican Secretary of State, and Archbishop Paul Richard Gallagher, the Secretary for Relations with States.
A statement from the Holy See Press Office called the talks "cordial," and said they highlighted the good bilateral relations between Monaco and the Holy See, and reference was made to the historical contribution of the Catholic Church in the life of Monaco.
Other issues of common interest that were discussed included environmental protection, humanitarian aid, and the integral development of peoples.
Finally, the parties considered some issues affecting the international community, including peace and security, the reception of migrants, and the general situation in the Mediterranean region, as well as the Middle East.
Prince Albert II gave Pope Francis a food basket – containing fruit, vegetables, and cheeses – as well as the Monaco edition of the encyclical Laudato si', and a medal.
Pope Francis gave the couple a Pontifical Medal and a copy of Evangelii gaudium.