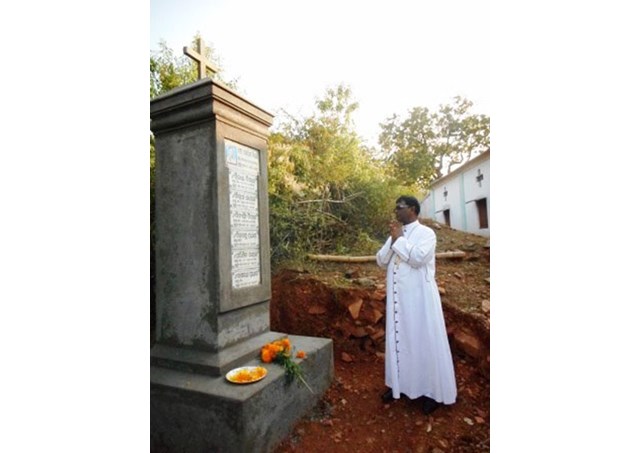 The Catholic Church in India has begun collecting data for the canonization process of Christians killed some 7 years ago during anti-Christian violence in eastern India's Odisha state.  "The official process has not yet started. But we are working on it and hope to start it in a few months," said Father Ajay Singh, secretary of the Odisha regional bishops' Commission for Justice, Peace and Development.  The efforts are aimed at the Vatican declaring as martyrs those killed when Hindu extremists attacked Christians in the tribal-dominated Kandhamal district in Odisha state in 2007 and 2008. 
A reign of terror was unleashed on Christians following the August 23, 2008 assassination of Hindu spiritual leader, Swami Laxmanananda Saraswati, by Maoists which Hindus blamed on Christians.  The anti-Christian violence engulfed more than 600 villages and killed about 100 people, including disabled and elderly people, children and women. Some 350 churches and 6,500 houses were looted and burned down, making 56,000 people homeless. Several rapes were reported, including that of a Catholic nun. The state had also witnessed an earlier round of anti-Christian violence during Christmas of 2007.
According to Father Santhosh Digal, spokesman for the Cuttack-Bhubaneswar Archdiocese, which covers the area, documentation of the victims is "not an easy job" as most official documents were destroyed in the rioting.  However, they are collecting evidence and data on the victims" to help start the canonization process.  Archbishop John Barwa told UCANEWS that the process will start "within few months" after consultation among India's bishops, who are to meet in March for their biennial general conference.
Father Singh said although the process will be initiated at the Cuttack-Bhubaneswar Archdiocese, they want it to become a national Christian affair that would help people reaffirm their faith.  He noted that many would not have been killed if they had simply abandoned their faith and hailed Hindu gods. "Although very poor and living in huts without basic amenities, they stood up for their faith, and dared to be butchered," he said. "These are remarkable witness stories, good enough to embolden Christians facing persecution anywhere in India," Father Singh added. (Source: UCAN)