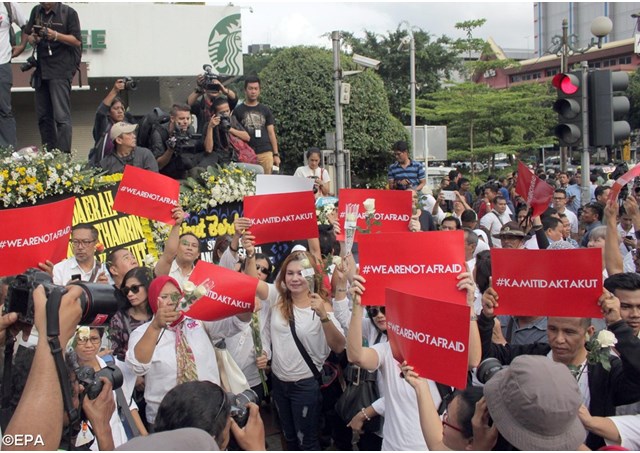 Indonesia's Church leaders have condemned Thursday's terrorist attack in their capital Jakarta and are calling for a concerted effort across religions and societies to help end the scourge of terrorism.  "We have to work hand in hand to protect our people, particularly our young people, from any ideology that can harm society," Father Paulus Christian Siswantoko, executive secretary of the Indonesian bishops commission for justice, peace and of pastoral care of migrants, told UCANEWS. 
Seven people were killed in the three-hour siege near a busy shopping district despite multiple blasts and a gunfight, and five of them were the attackers themselves. The terrorist group known as the Islamic State, or IS, claimed responsibility for the attacks. 
The Indonesian Catholic bishops' conference has not issued a statement about the attack yet but "we at the commission see the incident as being a lesson for us," said Father Siswantoko.  This is because terrorism has penetrated society and therefore all social elements must work together to protect society, he added. 
The Communion of Churches in Indonesia, the umbrella body of Protestant churches, called on Christians in particular and Indonesian society in general not to let terrorism tear down unity in the country.  "We must not surrender to all provocative actions that damages harmonious life," they said in a statement.
The world's most populous Muslim nation is no stranger to terrorist related violence. In 2002, a series of bombings took place in Kuta, killing 209 people, mostly foreign tourists and injured hundreds. 
In Pakistan, where terrorism is a major factor of daily life, Father Khalid Yousaf, acting executive secretary of the bishops' commission for social communications, condemned the terrorist attacks in Indonesia and expressed sympathy for the victims. "We are praying for peace in Indonesia and the whole world," he said adding "we understand the grief that the Indonesians are feeling as we in Pakistan have been facing a similar situation for over a decade." The only way to approach such groups and restore peace in the world is to initiate dialogue at every level, Father Yousaf said. (Source: UCAN)