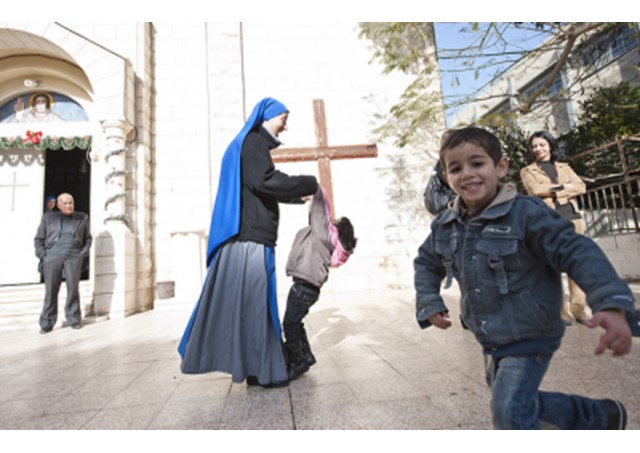 (Vatican Radio)  The annual Holy Land Coordination pilgrimage of bishops from Europe, North America, and South Africa is already underway in Bethlehem and the Jordanian capital, Amman.
The Church leaders are visiting local parishes, schools and development organizations to show the support of the worldwide Christian community and gain insights into the complex political and religious problems underlying the Israeli-Palestinian conflict.
Ahead of their main meetings from January 9th to 14th, the bishops spent two days in Gaza to see how people there are recovering from the 2014 conflict in which over 2.000 people were killed.
Fr. Mario da Silva, a Brazilian priest from the Institute of the Incarnate Word, is the parish priest of the Holy Family Church in Gaza.
Vatican Radio's Christopher Wells is travelling with the bishops and spoke to Fr. Mario da Silva about the life of his parish community.
Listen to the full interview:
Fr. Mario da Silva said the major problem in Gaza is not the 2014 war but, rather, the wall. People living in Gaza cannot leave the area for vacation or work so poverty is a major problem there.
Speaking about the Holy Family Parish, Fr. da Silva said it bears its name proudly, since the Holy Family surely passed through the area from Jerusalem on their way to exile in Egypt, as recounted in the Gospel of Matthew. It is also traditionally known as the deathplace of the Old Testament figure Samson, from the book of Judges.
Fr. da Silva said the Christian population is a minority and faces pressures from the Muslim community and the government so keeping true to their faith is 'not easy'.
He said that the parish tries to offer two types of help, both spiritual and material. "These people are suffering so much. We can help them to keep their faith ... with our advice, our preaching, the Mass, the Sacraments. But also we must help them with material things because they are very poor."
After mentioning to the Patriarch that his parishioners could not enter Jerusalem to receive the graces of the Holy Year, Fr. Mario received permission to open a Holy Door for the Jubilee Year in his little parish. "It is a very big grace for us, for all the people in the Gaza Strip."
To conclude the interview, Fr. da Silva said he would like to share with the world how much he had learned from the people of Gaza, from their witness of faith. "They are so strong in their faith. They prefer to lose all things but to keep their faith. They are a small number, just 130 Catholic Christians, but they are keeping their faith, and it is very, very beautiful to see this."
Archbishop Brislin is also on the Holy Land Coordination visit to Gaza and spoke about how people in Gaza are determined to rebuild their lives, despite the lack of any political initiatives for a lasting peace in the region.