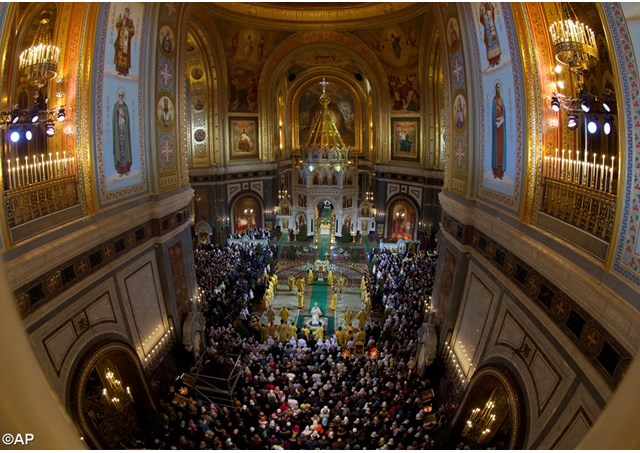 (Vatican Radio) Orthodox Christians from around the world celebrate Christmas on Thursday (7 Jan), in line with the Julian calendar. Traditions vary from country to country but involve liturgies, jumping into frigid water, dancing, log-burning ceremonies, street processions and fireworks displays.
Listen to Alexander MacDonald's full report:
In Russia, President Vladimir Putin attended midnight Mass in the church where his parents had been baptized. The head of the Russian Orthodox Church, Patriarch Kirlill, presided at a liturgy at Moscow's impressive Christ the Savior Cathedral, which was destroyed under Soviet leader Josef Stalin and only reconstructed after the fall of Communist rule.
It will also be the first time since 1928 that a Christmas Eve Mass has been held in the world's largest Orthodox basilica, the St. Isaac's Cathedral in St. Petersburg. The landmark 19th Century cathedral was turned into a museum under the officially atheist Soviet regime.
Orthodox Christians in Greece, Bulgaria, Turkey and Cyprus celebrate Christmas today in various rituals involving jumping into frigid water, sometimes to retrieve a cross tossed there by a cleric or to perform traditional dances.
In Ukraine, marked by increased tensions with rebels and a fragile cease-fire, some rebels have said they were willing to release captives as a good will measure in the Christmas spirit. It was unclear, however, whether it was a sincere effort or simply a publicity stunt. It is not known how many prisoners each side of the conflict might be willing to release.
Also in Russia, controversy has erupted over greetings sent by the Russian branch of the Coca Cola company. The company had sent greetings over social media which initially showed a map of Russia without their annexation of Crimea, then after protests from Russia, included it, to the dismay of Ukraine. The war between Russian-backed rebels and the government of Ukraine has cost thousands of lives, economic and infrastructure damage and a lower standard of living.
Orthodox Christians in the world number approximately 225 million and will be meeting later this year in a pan-orthodox council marked by challenges and obstacles. Russia has restricted travel to Turkey, leading to speculation that the meeting will take place in Geneva. The civil war in Ukraine will also be one of the top issues on their agenda.