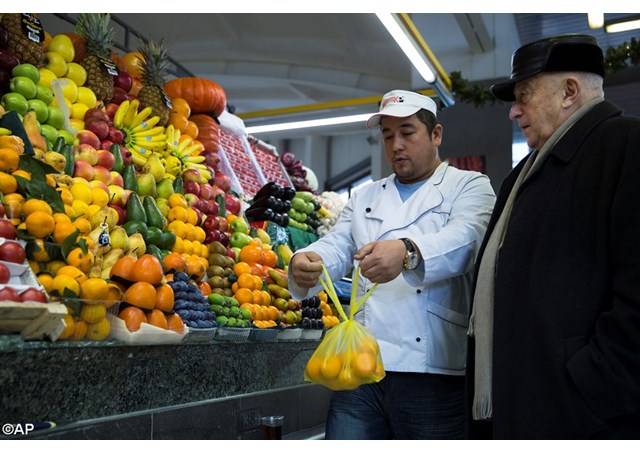 (Vatican Radio)  Ukraine says it will ban food products from Russia starting on January 10 in response to a similar measure taken by Moscow. The announcement comes amid East-West tensions over clashes in Ukraine between Ukrainian government forces and Russian-backed separatists.
Listen to Stefan Bos' report:
Kiev says new sanctions against Russia include banning Russian meat, fish and dairy products as well as vegetables and fruit. 
The statement published on Ukraine's government website came after Russia officially banned Ukrainian products on January 1.  
This trade war has been linked to Ukraine's decision to implement a free-trade pact with the European Union starting on New Year's Day, despite Russian opposition. 
Moscow says its ban on Ukrainian food imports is necessary to protect Russia's  internal market. Officials claim that European products could reach Russia by way of Ukraine without paying import duty.
Little impact?
And Russia's First Deputy Minister of Economic Development, Alexei Likhachev, says that Kiev's counter measures will have little impact on the already reduced trade with Ukraine.
"Not long ago Ukraine was Russia's fifth strongest trade partner, in 2011 and 2012 when trade volume amounted to around 52 billion dollars," he told reporters. 
"Compared to this period...last year's trade volume has dropped by 80 percent." 
The official added that agricultural products "amounted to only two percent of Russia's exports to Ukraine, even in the best years." 
A majority of them are going to South-East Ukraine and therefore, "Kiev's restrictions will not have a major impact on Russian exports as a whole," Likhachev said.    
Kiev protests
An initial attempt to finalize a free trade agreement between Ukraine and the EU failed in 2013, sparking protests in Kiev that led to the ouster of Ukraine's pro-Russian president. 
Soon after, Russia annexed Ukraine's Crimean Peninsula, while a Russian-backed separatist uprising began in eastern Ukraine. 
The ongoing conflict, which has killed more than 9,000 people, has led to serious tensions between Russia and the West: On New Year's Eve Russian President Vladimir Putin even signed an updated national security paper describing the expansion of the West's NATO military alliance as a threat to his country.
The document suggests that Russia is punished for its independent domestic and foreign policy and accuses the United States and its allies of striving to dominate global affairs.
Earlier last year, Russia's military announced it was sending nuclear-capable bombers to Crimea. It also warned that Russia would deploy advanced missiles to its westernmost Baltic enclave, Kaliningrad, which borders NATO members Poland and Lithuania.