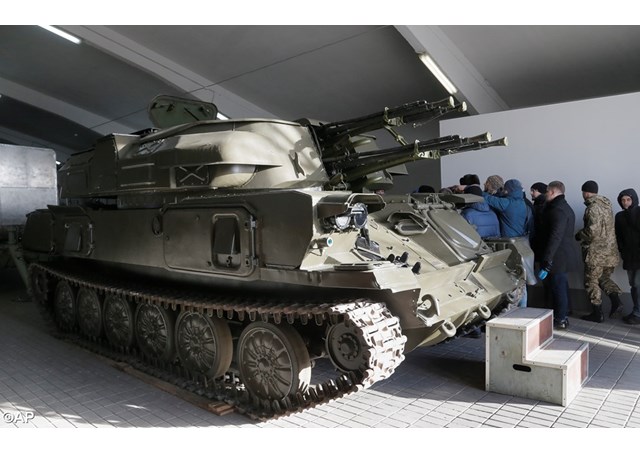 (Vatican Radio)  New Year celebrations in eastern Ukraine were overshadowed by reports of deadly fighting between Ukrainian government forces and Russian-backed separatists. The clashes came amid frustration in Russia over Ukraine's free-trade agreement with the European Union which came into force on New Year's Day, prompting the start of Moscow's food embargo against Kiev.
Listen to Stefan Bos' report:
The deal, signed in June 2014, is part of the broader EU Association Agreement and is at the heart of the drastic deterioration of Ukraine's relations with Russia.
It will grant Ukraine tariff-free access to the EU's giant market and is expected to boost Ukraine's struggling economy. 
But the deal deal has angered Russia which retaliated by suspending its free-trade agreement with Ukraine and banning the import of several products including Ukrainian food. 
Russia's First Deputy Minister of Economic Development, Alexei Likhachev, defended these measures. "The implementation of tariffs against Ukraine are fully justified, as Ukraine is implementing Brussels' principles of external trade, which means that Ukraine's jurisdiction will be adjusted according to the European Union's main conditions of both customs administration and the rules of external trade," he said.  
Ukraine reacts
However embattled Ukrainian Prime Minister Arseniy Yatsenyuk called Russia's actions unjustified. "Ukraine held about sixteen consultations about how it would fulfill the free trade agreement with the EU and whether this would involve any risks for Russia," he explained. 
After this process it is clear there are absolutely no reasons for Russia to even mention any risks the EU trade pact could cause," Yatsenyuk added.   
That's not all: Russia says it's suing Ukraine for defaulting on a $3 billion Eurobond debt owed to Moscow.
The rhetoric on both sides has done little to ease tensions elsewhere as the Ukrainian military and Russian-backed separatists in eastern Ukraine accused each other on Friday of violating an already shaky holiday truce between the warring sides.
Separatists said one "serviceman" was killed in the early hours of New Year's Day, as Ukrainian forces shelled the Donetsk airport and the Kominterenovo village.
Military attacked
However Ukraine's military countered that its positions in the the Donbas region came under attacks 22 times over the past 24 hours tough no casualties were reported among Ukrainian forces.
Additionally, Ukrainian police are blaming saboteurs yet again for blowing up an electricity pylon that shut down electricity for at least one-quarter of the residents of Crimea, which Russia annexed in 2014.
In November a similar attack saw electricity supplies being cut to all the peninsula's two million residents. 
With an ongoing conflict and amid slow reforms, Ukrainian Prime Minister Yatsenyuk has come under public pressure to resign. 
Yet he has made clear that early elections would be wrong as he wants to tackle high level corruption in 2016 including in the judiciary.  "As for the judicial reforms we must recognize that during the previous two years nothing has changed. My position has been and remains to be [that] we must replace all the nine thousand judges and we must not carry out just cosmetic reforms," he told reporters.    
Jobs such as judges could be even bought in Ukraine, which is now under Western pressure to end these and other practises, as it seeks closer ties with the EU and a more peaceful future this year.