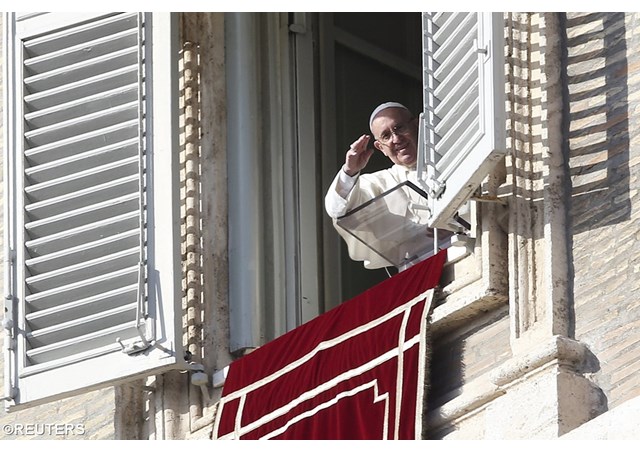 (Vatican Radio) Following two days of ceremonies at the Vatican the Pope was back in St Peter's Square on Saturday for the Angelus.
On this St Stephen's Day, Pope Francis recalled this Saint, the first martyr of the Church and remembered all those who suffer persecution in the name of the faith, calling them "our martyrs of today."
Listen to Lydia O'Kane's report
The Holy Father noted that Stephen is a faithful witness, because he does as Jesus does. He knows how to love, to give, but especially to forgive.
Forgiveness, the Pope explained, "leads to "results" and is not just "a good deed": "Among those for which Stephen begged forgiveness, said Pope Francis, was St Paul. The Pope continued, "we can say that Paul was born by God's grace and Stephen's forgiveness".
"We too, he went on to say, are born from God's forgiveness. Not only in baptism, but every time we are forgiven our heart is reborn, it is regenerated. The Holy Father also stressed that, we must never tire of asking God's forgiveness, because only when we are forgiven can we learn to forgive. "

But, the Pope underlined, that "to forgive, is always very difficult." Every day, he said, we have the opportunity to train ourselves to forgive, to live this elevated gesture that brings man closer to God. As our Heavenly Father, we too become merciful, through forgiveness we overcome evil with good, we transform hate into love and so we make the world cleaner ".

After the recitation of the Marian prayer, Pope Francis expressed his thanks for the many Christmas greetings he received "from Rome and elsewhere."