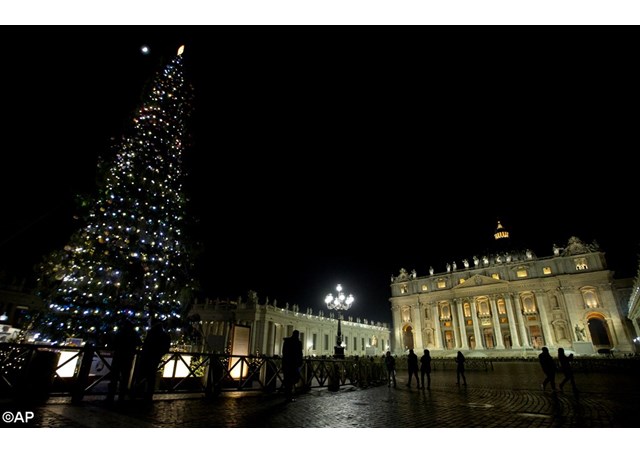 (Vatican Radio) Pope Francis will preside at the vigil Mass of Christmas this evening in Saint Peter's Basilica, beginning at 9.30 pm Rome time. Pope Francis has used these occasions in the past to promote the main themes of his pontificate: the love of God for all and God's mercy for all.
In his homily of Christmas Eve in 2013 the Pope called on Catholics not to be afraid, as the angels told the shepherds on announcing the birth of the Saviour. In 2014 he asked Catholics to welcome the tenderness of the Christ Child by letting him, his kindness and his love find us.
Christians in the Holy Land will be celebrating the Vigil of Christmas Eve Mass this evening on the actual site of the birth of Jesus, in Bethlehem. After opening a Holy Door of Mercy at the church of St Catherine, His Beatitude Fouad Twal, Latin Patriarch of Jerusalem will process into the Basilica of the Nativity. There he will preside at midnight Mass, beginning at 11.30 pm local time, followed by a procession to the Grotto.
Tomorrow, Pope Francis delivers his Urbi et Orbi message from the loggia of St Peter's Basilica, as well as his Apostolic Blessing, all of which will be televised live on the Vatican Player and on Youtube, beginning at 12 noon Rome time.