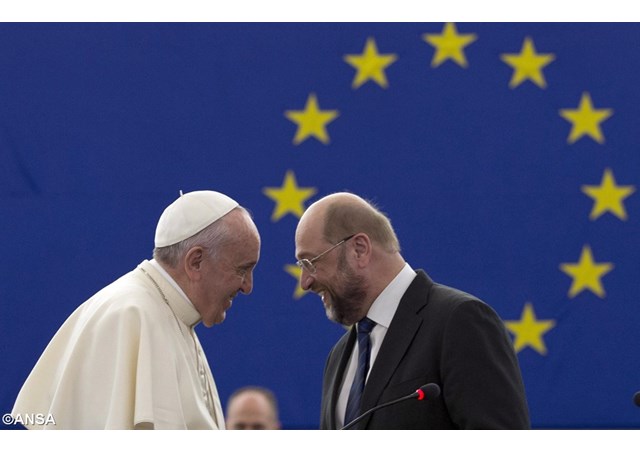 (Vatican Radio) Pope Francis has been awarded the International Charlemagne Prize of Aachen, the oldest and best-known prize awarded for work done in the service of European unification.
The announcement was made on Wednesday in the city of Aachen; the Pope will physically receive the award at a date still to be set, in Rome.
The Prize is named for Charlemagne, the Franconian king revered by his contemporaries as the "Father of Europe.
Listen to the report by Linda Bordoni: 

A communiqué by the Prize Committee said that Pope Francis has sent "a message of hope and encouragement" at a time in which "many citizens in Europe are seeking orientation."
The Pope – it continues – is a witness for a community based on values which include a sense of humanity, the protection of resources and dialogue between cultures and religions at a European level.
The Committee explains that in "recent years Europe has experienced great weaknesses, crises and setbacks" that have seriously pushed back "all the achievements of the European process of integration." 
To all this – it says - Francis opposes a message of hope.
Quoting from his discourse to the European Parliament in November 2014, the communiqué says the Pope's message is a wake-up call for Europe: "The time has come for us to abandon the idea of a Europe which is fearful and self-absorbed."
And again: "The time has come to work together in building a Europe which revolves not around the economy, but around the sacredness of the human person, around inalienable values."
The Pope – said Marcel Philipp, the Mayor of Aachen speaking to the press upon the announcement of the Award - is the "voice of conscience" that demands we put people at the center of our concerns, "he is an extraordinary moral authority."
Previous winners of the International Charlemagne Prize include St. Pope John Paul II who received a special edition of the award in 2004, Czech dissident and Statesman Vaclav Havel and Brother Roger Schutz, founder of the ecumenical community of Taizé.