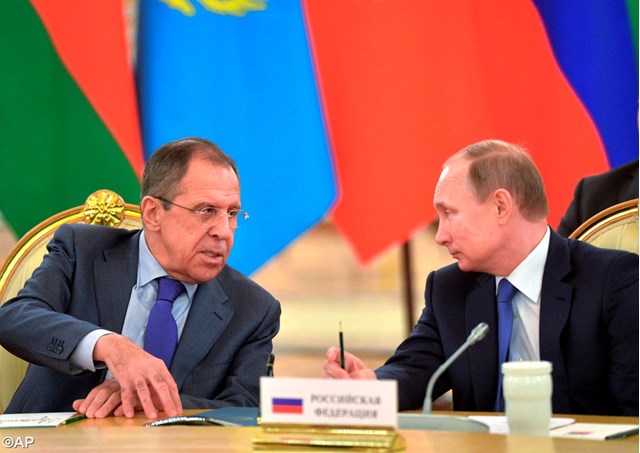 (Vatican Radio)  Russia says it is tightening trade sanctions on Ukraine and will ban Ukrainian food products from January 1 in retaliation for Kiev's sanctions and its free trade deal with the European Union. The move comes shortly after the EU agreed to extend for at least another six months its economic sanctions against Russia because of its role in an ongoing conflict in Ukraine.
Listen to Stefan Bos' report:
Besides a bloody conflict in the east, Ukraine now faces a trade war with Russia.  Moscow says it will apply new tariffs on Ukrainian exports from January 1, when Kiev's free trade deal with the European Union takes effect.
Earlier Russia announced a ban on imported Ukrainian food - also from New Year's Day - because Ukraine blacklisted many Russian banks, defence firms and airlines, in line with EU sanctions.
The wide ranging EU sanctions were triggered by Russia's annexation of Crimea in 2014 and its support for pro-Russian separatists in eastern Ukraine. But Russian President Vladimir Putin has denied denied sending troops and weapons to the rebels.  "First, we never said that none of our people were there [in east Ukraine], deciding some military questions, but it does not mean that the regular Russian army was there, notice the difference," he said.
EU extends sanctions
EU leaders also decided to extend the sanctions until mid-2016- because the Minsk peace deal, aimed at settling the eastern Ukraine conflict, had not been fulfilled as planned by the end of this month.
Analysts say Russia views the close cooperation between Ukraine and the EU as an extension of Western influence towards its borders and a major  threat to its trade and political national interests.
But Svitlana Zalishchuk, a ruling party legislator in Ukraine, claims Russia has nothing to fear. "I don't think we have to (in any way) consider the situation in Ukraine as the sphere of legitimate interest of Moscow, Russia or any other player, big country, stakeholder in the region."
Yet Russia argues that the upcoming trade agreement between Kiev and Brussels, known officially as the 'EU-Ukraine Deep and Comprehensive Free Trade Area', threatens to turn Ukraine into a backdoor for cheap EU exports to Russia. It is now scrapping its preferential terms for Ukrainian exporters.
Separately, the Russian government said on Monday it would take legal action over Ukraine's failure to repay a $3 billion dollar debt.  There's more bad financial news for Moscow: Ukraine's imports of Russian natural gas - for years a thorny issue in their relations - have declined to a bare minimum.
Ukrainian officials claim Ukraine's natural gas dependency on Russia has been reduced through energy efficiency measures and diversifying energy supplies.