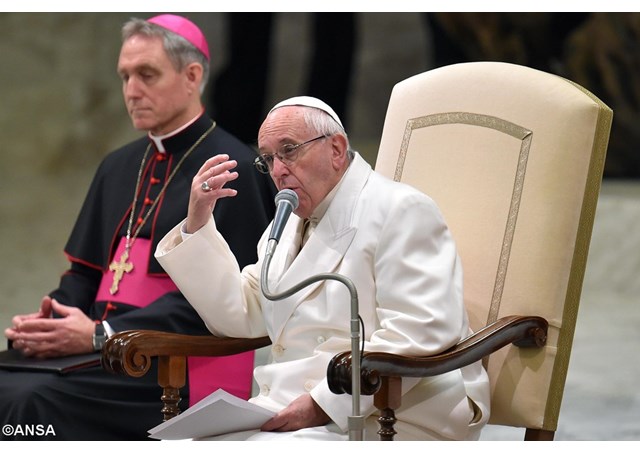 (Vatican Radio) Pope Francis received the employees of the Holy See and the Vatican City State in a special audience on Monday, to exchange Christmas greetings with them and their families. During the course of the audience, the Holy Father expressed his gratitude to the workers and their families, and asked forgiveness for the recent scandals in the Vatican.
Click below to hear our report
"As I thank you," Pope Francis said, "I also want to ask your forgiveness for the scandals that there have been in the Vatican. I wish, however, that my attitude and yours, especially in these days, be above all one of prayer: pray for the people involved in these scandals, that those who have done wrong might repent and find the right path once again."
The Holy Father also encouraged his employees to cultivate family life.
"I encourage you to take care of your marriage and your children," he said. "Marriage is like a plant," he continued. "It is not like a closet, that you put there, in the room, and just dust it occasionally: a plant is alive, it should be cared for every day." Likewise, "A marriage is a living reality: the couple's life should never be taken for granted, at no stage of the path of a family. Let us remember that the most precious gift for the children are not things, but the love of parents – and I mean not only the love of parents towards their children, but parents' love for each other."
Departing from his prepared text, the Holy Father had particular words for grandparents and their role in the health of family life and the upbringing of children. "Grandparents are so important in the family," he said, "grandparents have memory, have wisdom: do not leave grandparents aside."
Forgiveness was another major theme of Pope Francis' unscripted reflections: peacemaking among spouses and among children. "The Jubilee is something to be lived in the domestic Church, as well, not only in the big events," he said. "Indeed, God loves those who practice mercy in ordinary circumstances," he continued. "This I want to wish you: to experience the joy of mercy,beginning in your family."
Pope Francis concluded, saying, "Thanks for your work, forgiveness for the scandals and, 'Onward!': go forward in this community and bring my greetings and my best wishes to your loved ones, the elderly and the sick – and continue, please, to pray for me. Thanks again and 'Merry Christmas!'"