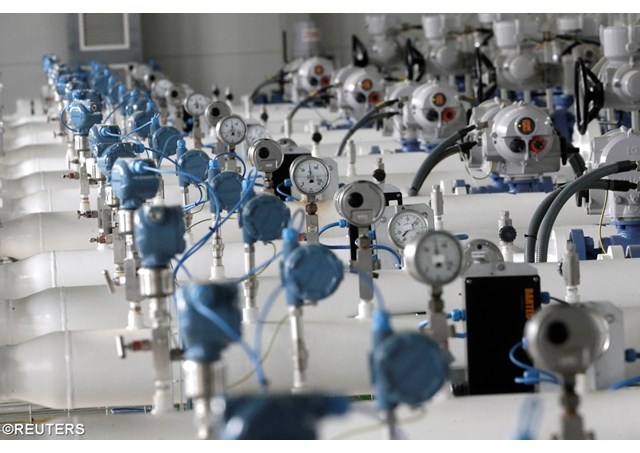 (Vatican Radio)  The European Union is expected to extend economic sanctions against Russia for another six months over its role in the ongoing conflict in Ukraine between government forces and pro-Russian separatists. Monday's likely adoption of the punitive measures follows recommendations by EU ambassadors on the sidelines of an EU summit and comes despite fresh tensions among member states over a natural gas project with Russia. 
Listen to Stefan Bos' report:
EU ambassadors said that sanctions against Russia should stay in place until July 31, 2016. The measures target Russia's financial, oil, and military sectors and specific individuals linked to Ukraine's conflict that has killed some 8,000 people.
The sanctions were expected to be approved by the EU during a final, formal ratification process on Monday. They were first imposed in July and September 2014 in response to Russia's annexation of Ukraine's Crimean Peninsula and Moscow's support for pro-Russian separatists in eastern Ukraine. 
Without an extension, the existing sanctions would expire on January 31. Yet the measures come amid tensions within the EU over ongoing preparations for a natural-gas pipeline under the Baltic Sea to Germany, a major trade partner of Russia. 
European Council President Donald Tusk says the proposed Nord Stream-2 pipeline extension does not meet EU energy rules on supply diversification and would undermine Ukraine's role as a natural gas transit state. "The Commission has said if Nord Stream-2 were to be constructed it would increase Europe's dependence on one supplier and concentrate 80 percent of Russian gas imports on one route," he told reporters. 
Dominant Market Share
"It would also to lead to a dominant position of [Russia's energy giant] Gazprom on the German market by increasing its share to over 60 percent," Tusk said. 
The project is also opposed by several Central and Eastern European EU members as well as the United States, who see it as a Russian strategy to bypass Ukraine, which already faces economic difficulties.
Yet there has been some good news for Ukraine this festive season: Speaking on the sidelines of an EU summit, European Commission head Jean-Claude Juncker said the EU should offer visa-free short-stay travel within the Union's passport free Schengen zone for citizens of Ukraine. 
"The European Union and Ukraine have a shared interest in visa liberalisation: making it easier for our citizens to travel to each other's countries," he said. "If Ukraine stands by the commitments made, the Commission will do exactly the same."
Juncker stressed that he was "glad to say that Ukraine has made tremendous progress...For instance, in the fight against corruption an important step was taken with the appointment a few weeks ago of a specialised Anti-Corruption Prosecutor."
Swimming in right direction
That is why, he said, "we are swimming, moving in the right direction" of visa-free travel.
He wants similar deals with Georgia and Kosovo who are also locked in bitter disputes with Russia.
If approved by member states and the European Parliament, Ukrainian and other citizens could travel to the EU without visas as soon as 2016.
But the EU's measures are unlikely to quickly end what seems a frozen conflict in eastern Ukraine: In recent days separatists even placed a statue there to Soviet-era dictator Josef Stalin in the Luhansk region.