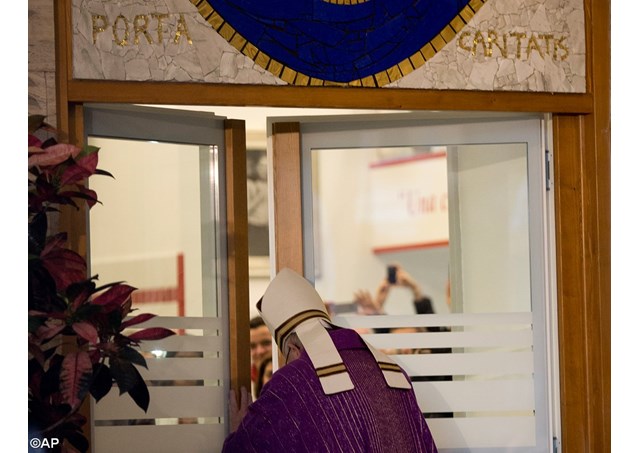 (Vatican Radio) Pope Francis on Friday visited a new homeless shelter in Rome's Termini – John Paul II train station, where he opened a Holy Door for the Jubilee of Mercy.
It was the fourth Holy Door opened in Rome, following the solemn opening of the Doors at St Peter's Basilica and the Archbasilica of St John Lateran by Pope Francis. The Holy Door at St Paul's Outside-the-Walls was opened by Cardinal James Harvey, the Archpriest of the Basilica. The fourth Papal Basilica, St Mary Major, will see its Holy Door opened by the Pope on the Solemnity of Mary, the Mother of God on January first.
The decision to open a special Holy Door of Charity at a homeless shelter is a unique feature of the extraordinary Jubilee of Mercy, designed to emphasize the centrality of concrete works of charity in the life of the Church.
Following the opening of the Holy Door, Pope Francis celebrated Mass at the Centre.
Listen to Christopher Wells' report:
During his homily the Pope spoke off the cuff stressing that Jesus was not born to a princess in a palace, but rather he came in humility to a simple young girl, living on the outskirts of the Roman Empire. Joseph too acted in humility, the Pope said, taking Mary as his wife, despite the gossip and slander surrounding her pregnancy.
In the same way today, the Pope continued, we won't find God among the wealthy and powerful but rather we find him almost hidden away among the most needy, the sick, the hungry and those in prison.
You can't pay your way to heaven, the Pope warned, adding that he opened the door of this homeless shelter in order to open the hearts of all the people of Rome. The way of salvation, he insisted, is not to be found through luxury, vanity, riches or power, but rather through the loving embrace and forgiveness of God.
While so many people, rejected by society, are helped by coming through this door, he said, may God give all of us the grace to feel rejected and understand that we too are in need of God's mercy.