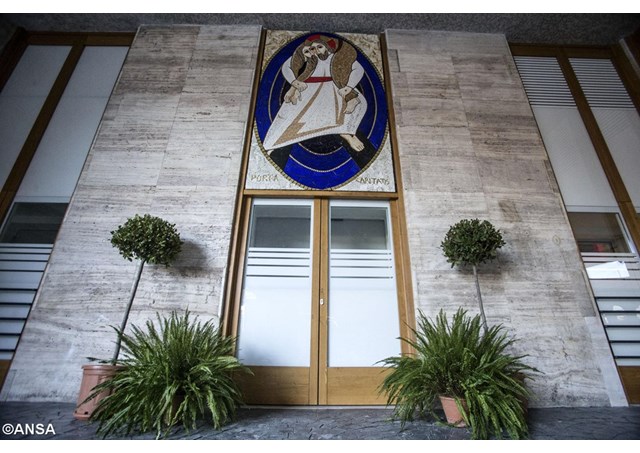 (Vatican Radio) Pope Francis will on Friday open a Holy Door at a newly refurbished homeless centre run by the Church near Rome's main train station. Lydia O'Kane went along to see the newly completed project which offers a bed, a meal and ray of hope to hundreds of people every night.
Listen: 
As you arrive at the Holy Door of the Caritas centre for the homeless at Rome's Termini Station you can't fail to notice the mosaic logo of the Year of Mercy depicting Jesus the Good Shepherd by Marko Ivan Rupnik.
The door will be opened by Pope Francis on December 18th and he will also have the chance to see for himself the newly refurbished night hostel and canteen which are named after Caritas Rome founder Don Luigi Di Liegro and Pope Saint John Paul II.
Speaking at the inauguration of the new centre which he described as a place of dignity and welcome, the present Director of Caritas Rome, Monsignor Enrico Feroci quoted the words of Don Luigi who said, "a city in which one man suffers less is a better city".
Those words are inscribed on the walls of the new pristine canteen which caters for up to 600 homeless people every evening and offers a much needed respite from the streets outside where people can come, for warmth, contact with others, and a good meal.
As I make my way to the hostel itself, I am impressed by how welcoming they have made the 200 bed dormitories, each one with its own signature colour.
It's taken years of work and co-operation to have both the canteen and hostel ready for Pope Francis' Jubilee visit as Fulvio Ferrari, the Chief Engineer responsible for the project explains.
"We work during two years… in the last 6 months we work strongly and for the Jubilee".
So why does he think Pope Francis chose to open a Holy Door here?
He says it's because it is putting service at the heart of the Church's mission.
This is a centre that offers hope and help to all who pass through its doors, but here at Termini there is also general agreement that in this Jubilee of Mercy more and more people are increasingly in need of services like these.