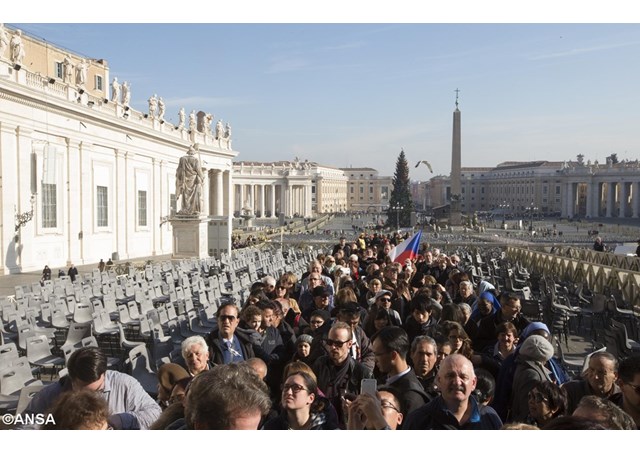 (Vatican Radio) Pope Francis speaks almost daily about the Jubilee Year and experience of the Holy Door as a way of rediscovering God's mercy in our lives.  Holy Doors are being opened this week in cathedrals and churches across the globe, but over the coming year hundreds of thousands of pilgrims are also expected to make the journey to Rome, to step through the Holy Door of St Peter's Basilica, which the Pope himself inaugurated on December 8th, the feast of the Immaculate Conception.
While the Pope's words, his homilies and teachings, provide plenty of spiritual guidance for such an experience, the British Consulate and its Embassy to the Holy See have also come up with some important guidelines offering practical support for anyone considering a pilgrimage to the Eternal City over the coming year. From a top ten tips leaflet on how to plan your trip, to a blog detailing routes and official registration procedures, the advice aims to guarantee pilgrims not only a fulfilling "spiritual experience, but also a very safe and happy one too".
To find out more, Philippa Hitchen sat down with British Consul, Joyce McDougall, and Britain's ambassador to the Holy See, Nigel Baker….
Listen: 
Ambassador Baker notes how Pope Francis has emphasized the global nature of the Holy Year so people in Britain are interested and many pilgrims are expected to come to Rome. That will be largely Catholics from the different dioceses in England, Wales, Scotland and Northern Ireland, he says, but  may also include people from other Christian Churches and other faiths too…
Baker speaks of his own experience as the first British layman to step through the Holy Door of St Peter's Basilica just after its inauguration on December 8th. He stresses that the concepts of "mercy and forgiveness, of reaching out to others" are valid for all people and that stepping through the door is an important way of "being forced to think" more deeply about such things.
Consul McDougall explains that everyone who registers from Britain will receive the Foreign Office top ten tips leaflet with useful phone numbers and websites. In particular, she stresses the need to take care of passports (carry a copy around the city instead of the original), to sort out health insurance and to check the Foreign Office travel advice before embarking on the journey.
Regarding security concerns, McDougall says the British government has worked closely with the Italian civil protection unit and is "very happy with security arrangements that have been put in place". Like any major city, she says, "at this moment you have to be careful".
Supporting British pilgrims for the Holy Year, McDougall explains, is part of a wider effort to help those travelling abroad for any major event. Ambassador Baker notes that similar support is offered to British people travelling to the Hajj, in the hope that all pilgrims will have not only a "wonderful spiritual experience, but also a very safe and happy one too".