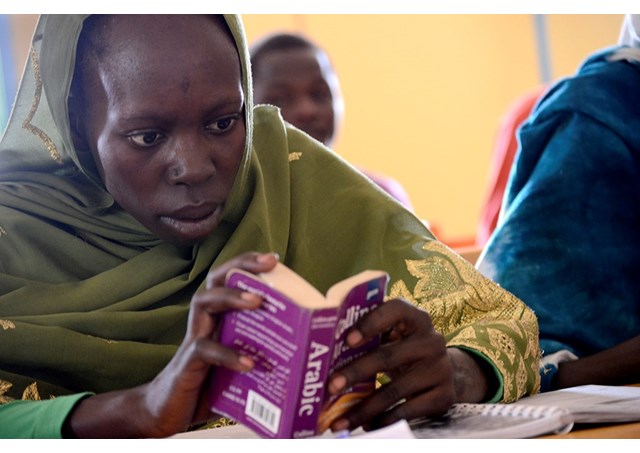 (Vatican Radio) As a concrete sign of commitment to the Jubilee Year of Mercy, the Jesuit Refugee Service – JRS – has launched an ambitious advocacy and fundraising campaign.
Listen to the report by Linda Bordoni: 
As  the Director of JRS international, Jesuit Father Tom Smolich explains, the goal of the "Mercy in Motion" Campaign is to offer educational services to 100,000 more refugees than are currently provided for, because to  provide education – he says – means to invest in peace.
It's a direct response to Pope Francis' call for mercy in action: 
" When Pope Francis announced last March that he was calling for a Jubilee Year of Mercy, JRS began to reflect exactly on how we might want to respond to that call… " 
During an articulated press conference to launch the Mercy in Motion Campaign, a video was shown in which Pope Francis voices his support for the Global Education Initiative and his thanks to JRS, its supporters and its benefactors who aim to reach many more refugees in urgent need of an education which – he said - can help keep them safe…
"It's an initiative - the Pope said- that can help refugees go beyond mere survival, it can keep hope alive and allow them to trust in a future and think of following up on projects..."
A powerful intervention by JRS International Advocacy Coordinator, Amaya Valcarcel, highlighted the fact that education is a human right and a means to building peace and development. For forcibly displaced persons – she said – education has a critical role in sustaining and saving their lives throughout a crisis, and while it is considered one of the four fundamental pillars of humanitarian assistance, along with food, health care and shelter, education –she pointed out –  receives far less funding than the others…
Samer Afisa from Syria and Aweis Ahmed from Somalia were present to give their first hand testimonies of how traumatic it is to be forced to flee from one's land.
Samer says he did it for his children – what future could he offer them back home?
Aweis – who described Somalia as a forgotten country where men, women and children die every day far from the eyes of the world – said that when he left his country and his family he lost everything…
They both agree with Pope Francis and his belief that "to give a child a seat at school is the finest gift you can give… for children forced to emigrate, schools are places of freedom…
"As Pope Francis has announced - Fr Tom says – in calling for a  Year of Mercy he's invited all of us to look into ourselves and find the grace that we can find, that we can show, those most in need".
With the Mercy in Motion Campaign - he explains - JRS has drawn up and developed a carefully constructed programme:
"We basically intend to do this in three ways…" 
And as Pope Francis has repeatedly  pointed out in the run-up to the Holy Year of Mercy: "mercy is not an abstract idea but a concrete reality….
And as JRS firmly believes: We must show mercy to those who are at the mercy of outside forces. We must mobilise ourselves for those who are in motion. This Jubilee Year, it is time to put our mercy in Motion!
For more information on the JRS "Mercy in Motion" campaign click here.