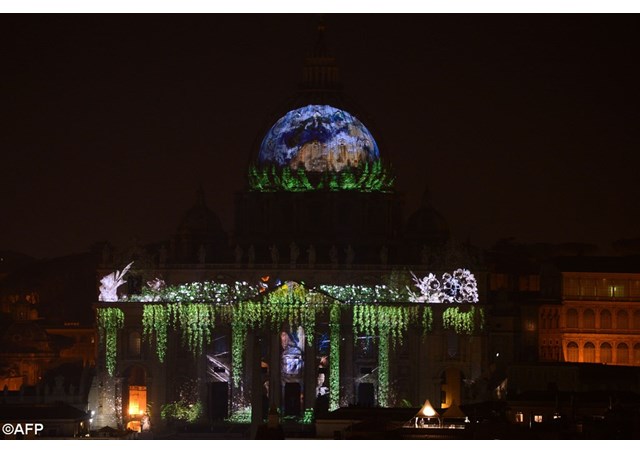 (Vatican Radio) The final event of the opening of the Holy Year was a light show on the facade of St. Peter's Basilica, which was inspired by Pope Francis' ecological encyclical Laudato Si': On Care for our Common Home.
The three-hour event on Tuesday evening was called "Fiat Lux: Illuminating Our Common Home." It involved a changing display of animals (many of them endangered), nature scenes, and other images highlighting the fragility of our environment.
The show was sponsored by the World Bank Group (Connect4Climate), by Paul G. Allen's Vulcan Productions, by the Li Ka-shing Foundation and by Okeanos.
The event featured the work of some of the world's most notable humanistic and nature photographers and filmmakers including Sebastião Salgado (Genesi and Contrasto), Joel Sartore (National Geographic Photo Ark), Yann Arthus Bertrand (Human), David Doubilet, Ron Fricke and Mark Magidson (Samsara), Howard Hall, Shawn Heinrichs, Greg Huglin, Chris Jordan, Steve McCurry, Paul Nicklen and Louie Schwartzberg. The projection is curated by Louie Psihoyos and Travis Threlkel, and produced by Obscura Digital. Francesco Carrozzini curated the Creative Direction for Connect4Climate.
"We are honored to be working with the Vatican to raise awareness of an issue so critical to our shared goal of ending extreme poverty," said  Jim Yong Kim, the President of the World Bank Group.
"The poorest people in the world are disproportionately affected by the effects of a warming climate and are most vulnerable to natural disasters and extreme weather," Kim added. "This impressive initiative will draw global attention to the urgency of tackling climate change for the sake of people and our planet."
Speaking about the event last week, the President of the Pontifical Council for the New Evangelization, Archbishop Rino Fisichella, said the event was "intended to present the beauty of creation," adding this was especially significant since the Twenty-first United Nations Climate Change Conference (Cop 21) is currently taking place in Paris.