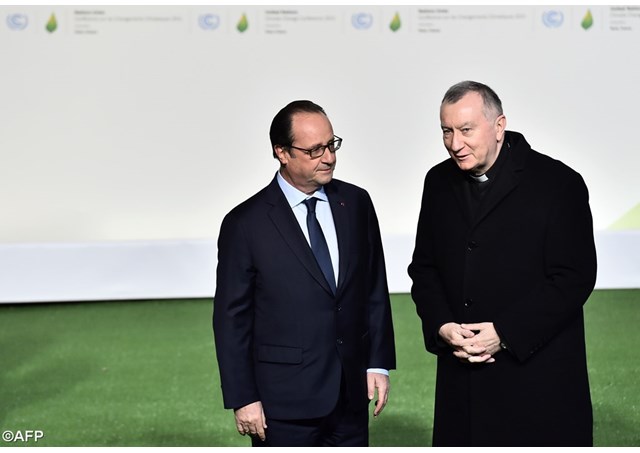 (Vatican Radio) Cardinal Pietro Parolin, the Vatican Secretary of State, addressed the COP21 summit on climate change on Monday, emphasizing the need for an agreement with a "clear ethical slant".
COP21, also known as the 2015 Paris Climate Conference, aims to achieve a legally binding and universal agreement, with the goal of keeping global warming below 2°C.
Listen to Philippa Hitchen's report:
The Vatican Secretary of State referred repeatedly to Pope Francis' recent speech at the UN Office in Nairobi, in which he expressed his hope for a "transformative and global" agreement based on the values of "solidarity, justice, equality and participation".
The cardinal also made reference to the Pope's recent encyclical Laudato si', saying "A great cultural, spiritual and educational challenge stands before us, and it will demand that we set out on the long path of renewal
Cardinal Parolin said the Pope is calling for a long-term ethical agreement with three concrete objectives: to "lessen the effects of climate change, fight against poverty, and enable the dignity of all human beings".
Noting that those most vulnerable to the effects of climate change are the poor and future generations, the cardinal insisted that "our throwaway culture is unsustainable" and "there is no room for mindless globalization". He said developed countries must set a good example for poorer parts of the world, through the support of low carbon economies and sustainable development programmes along with the promotion of renewable and efficient energy sources.