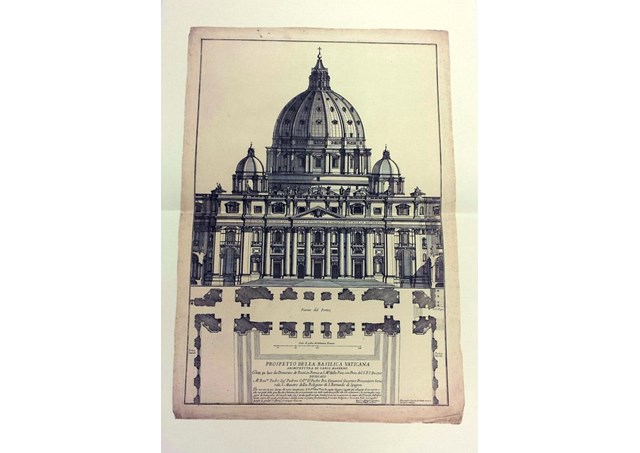 (Vatican Radio) Pope Francis offered the gift of an etching of St Peter's Basilica to the President of Uganda, Yoweri Kaguta Museveni. The etching, by Alessandro Specchi, dates to the early 18th century.
Below, please find the official description of Pope Francis' gift to President Museveni:
Alessandro Specchi (Rome 1666 – 1729)
Prospectus of the Basilica of St. Peter
Etching
1705
Inscriptions: below at center: PROSPECTUS OF VATICAN BASILICA/ ARCHITECTURE BY CARLO MADERNO/ Dato in luce da Domenico de Rossi in Roma a S.M. della Pace con Priv. Del S.P. l'An. 1705 / DEDICATO / Al Rev.mo Padre Sig. Padron Col.mo Il Padre Fra Giovanni Guerrero Procuratore Gene/rale e Maestro della Religione di S. Bernardo di Spagna/…Dev.mo e Obblig.mo Servitore Lorenzo Filippo de' Rossi / Alessandro Specchi Architetto misurò/disegnò e intagliò.
The architect Alessandro Specchi was a pupil of Carlo Fontana, and at an early age he refined his skill as an engraver, producing all the tables of the monumental work on the Tempio Vaticano (Vatican Temple) by Carlo Fontana himself (1694), a different series of views of the city of Rome (Nuovo teatro dei palazzi di Roma, 1699) and perspective drawings of famous buildings (Studio di Architettura Civile, 1702). To his mastery belong some single prints of the Colosseo, the Campidoglio, the Porto di Ripetta and the principal Roman basilicas. In the print under observation, that belongs to this typology of autonomous works, he resumes, in full frame, the prospectus of the Basilica already executed for the Tempio Vaticano, and enriches it with details. In the lower part of the picture, the plan of the portico is also depicted.
The work was probably published by Domenico De Rossi in various editions since the Le Blanc carries one of 1694. The sample under observation is a status of 1705 and is dedicated to Father Giovanni Guerrero, Master of the Order of San Bernardo of Spain.
As an architect, Alessandro Specchi had the opportunity to work for numerous buildings that featured the roman countenance of the XVIII Century, among which the Porto di Ripetta, the first arrangement of the Scuderie del Quirinale and the De Carolis building on the Corso. In 1714, at the death of Fontana, he succeeded him in the role of architect of the Fabbrica di San Pietro.