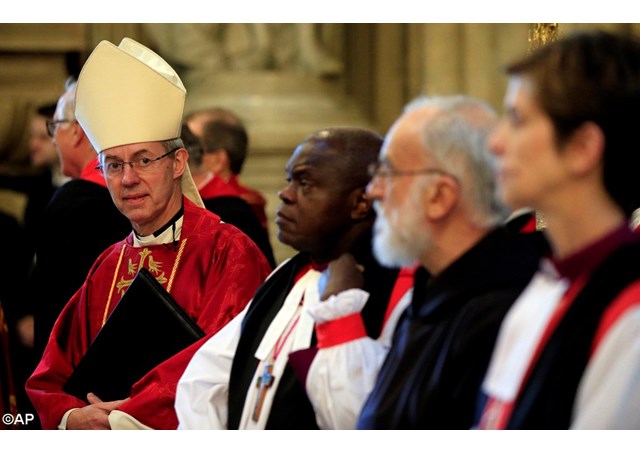 (Vatican Radio) Britain's Queen Elizabeth and leaders of the Church of England have welcomed the words of the Papal preacher, Fr Raniero Cantalamessa, as "significant", "forthright" and "a very strong message". The Franciscan friar, who is Preacher of the Papal Household, gave the sermon in Westminster Abbey on Tuesday during the inauguration of the 10th General Synod of the Church of England, with Queen Elizabeth II in attendance.
Fr Cantalmessa urged Christians to "take a qualitative leap forward" in the search for unity, especially as they look ahead to the forthcoming 500th anniversary of the Protestant Reformation. "In many parts of the world", he stressed, "people are killed and churches burned not because they are Catholic, or Anglican, or Pentecostals, but because they are Christians. In their eyes we are already one! Let us be one also in our eyes and in the eyes of God. "
Among those listening to the papal preacher in Westminster Abbey was Bishop Tim Thornton of Truro in Cornwall, who served as Anglican delegate to the three week Synod of Bishops on the family, here in the Vatican in October. Philippa Hitchen talked to him about the significance of this historic event and about Pope Francis' visit this week to the Ugandan shrine where Catholic and Anglican martyrs are remembered for their shared witness of faith….
Listen: 
Bishop Tim describes the papal preacher's words in Westminster Abbey as "very significant". He notes that the Queen, in her speech to the Synod following the inauguration, also described Fr Cantalamessa's presence as "a good sign" that could not have happened a few years ago.
Commenting on the divisive moral issues that the papal preacher mentions in his sermon, Bishop Tim says sadly questions of sexuality divide the Churches, as well as causing divisions within the Churches, as he has seen in his own Anglican Communion, and during the Synod on the Family in Rome. In this sense he says, the message of Fr Cantalamessa is all the more powerful, stressing that those who persecute Christians "see us as one and we really ought to see ourselves as one".
Reacting to the papal preacher's call to the Anglican Church to be a middle way or 'Via Media' between Roman Catholicism and Reformed Christianity, Bishop Tim says in England "we probably devalue that role" but there is a stronger sense of such a mission within the wider Anglican world. He says the Franciscan friar's words are "a challenge to us" to find ways of taking on that bridge-building role.
Finally Bishop Tim comments on the Pope's visit this week to Ugandan martyrs' shrine, saying it shows how we need to stand alongside those being persecuted today. He highlights the fact that while the Pope is visiting Africa this week, the Archbishop of Canterbury is travelling to Pakistan to "stand alongside Christians" there who need our support today.