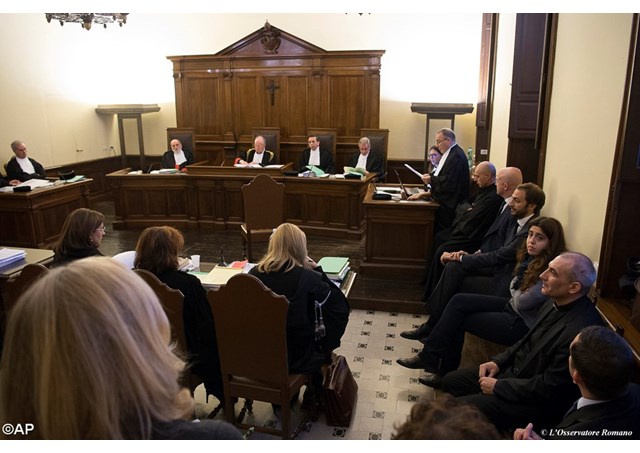 (Vatican Radio) The preliminary hearing of the five people accused of being involved in the leaking of documents from the Vatican began on Tuesday in the Tribunal of the Vatican City State.
The five defendants are Monsignor Lucio Vallejo Balda, who serves as Secretary of the Prefecture for the Economic Affairs of the Holy See and was also the Secretary of the Commission in charge of examining and advising on the organisation of the economic and administrative structure of the Holy See (COSEA); his aid Nicola Maio; Italian laywoman Francesca Immaculate Chaouqui, who was also a member of the COSEA commission; and the two journalists who published leaked documents, Emiliano Fittipaldi and Gianluigi Nuzzi.
Msgr. Vallejo Balda, Mr. Maio, and Mrs. Chaouqui are accused of forming a criminal organization and of procuring and leaking confidential documents. Mr. Nuzzi and Mr. Fittipaldi are accused of publishing those documents and of ``soliciting and exercising pressure, above all on Vallejo Balda, to obtain the documents and other reserved information.''
A press release from the Holy See Press Office confirmed all five defendants were in the courtroom for the proceeding, with counsel.
The court was composed of Giuseppe Della Torre, President; Piero Antonio Bonnet, Judge; Paolo Papanti-Pelletier, Judge; and Venerando Marano, Alternate Judge.
The Office of the Promoter of Justice (the prosecution) was represented by the Promoter, Gian Piero Milano, and the Adjutant-promoter, Roberto Zannotti.
After the reading of the charges, the President announced that he had forwarded the request for the appointment of two additional lawyers for Mr. Nuzzi and Msgr. Vallejo Balda to the President of the Court of Appeals, for the necessary authorization.
The Tribunal then heard two preliminary objections:  One by the lawyer for Monsignor Vallejo Balda on the amount of time needed for the gathering of evidence for the defence, and – after a statement by Emiliano Fittipaldi protesting the charges and his freedom as a journalist to publish news – one by his attorney requesting the nullification of his indictment for not containing a precise declaration of the alleged offences with which he is charged.
The Promoter's Office – in this case, Zannotti -  responded to the second objection by arguing that they were not intending to trample on the freedom of the press, but that the defendant should be held accountable for how he went about obtaining the published documents and other information, and this was stated in his indictment.
After considering the two objections in chambers for about 45 minutes, the court rejected both of them, and announced the next hearing will be on the morning of Monday, 30 November, during which the testimony of the defendants will be heard, beginning with Msgr. Vallejo Balda and Mrs. Chaouqui.  The statement also stated there would be several hearings next week.