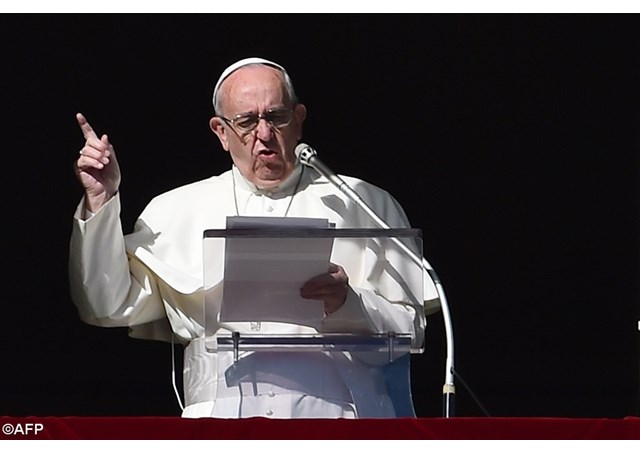 (Vatican Radio) Pope Francis called for all the faithful everywhere to pray for persecuted Christians on Sunday. Speaking to pilgrims and tourists gathered beneath the window of the Papal apartment in the Apostolic Palace, which overlooks St. Peter's Square, the Holy Father recalled the beatification in Barcelona on Saturday of Bl. Federico da Berga and his 25 Companions, who were martyred during the course of the Spanish Civil War in the 1930s.
"They were," said Pope Francis, "priests, young professed friars awaiting ordination, and lay brothers belonging to the Capuchin Order of Friars Minor (Franciscans): let us entrust to their intercession the many of our brothers and sisters who, sadly still today, in many different parts of the world, are persectuted because of their faith in Christ."
Click below to hear our report
Pope Francis also asked the faithful to pray for the success of his upcoming visit to Kenya, Uganda and the Central African Republic, which begins this Wednseday, Nov. 25. "I ask you all to pray for this voyage," he said, "that it might be for all our brothers and sisters in those lands, and also for me, a sign of closeness and of love."
Ahead of the Angelus on Sunday, the Solemnity of Christ the King, with faithful pilgrims and tourists gathered in St. Peter's Square, the focus of the Holy Father's remarks was the nature of Christ's kingship: a kingship that opposes itself to the worldly logic that prizes ambition and rewards ruthlessness, expressing itself in humility and selflessness, and affirming itself silently but efficaciously with the force of truth.
"The kingdoms of this world sometimes build themselves on arrogance, rivalry, oppression; the kingdom of Christ is 'a kingdom of justice, love and peace'," he said. The Holy Father went on to say, "[T]o reign as He does means to serve God and the brethren – a service that flows from love: to serve for love's sake is to reign: this is the regality of Jesus."
Pope Francis concluded, saying, "Before so many lacerations in the world, and the too many wounds in the flesh of men, we ask the Virgin Mary to sustain us in our commitment to imitating Jesus, our King, making present His Kingdom with acts of tenderness, compassion and mercy."