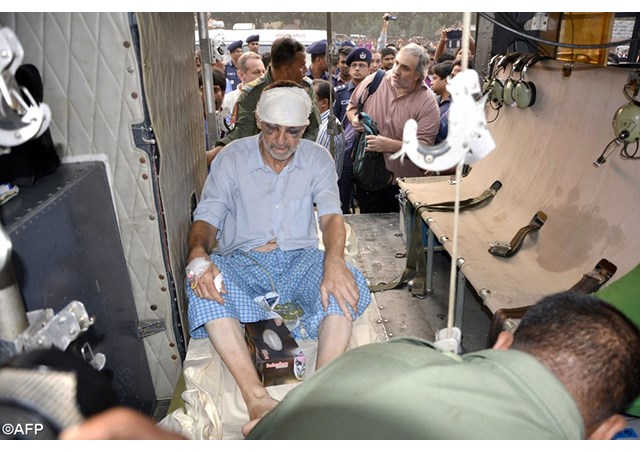 The Islamic State group has claimed the Nov. 18 attack on an Italian Catholic missionary in Bangladesh that has left him in critical condition.  Three men on a motorcycle fired shots at Father Piero Parolari, a priest of the PIME society, as he was riding his bicycle in the town of Dinajpur, about 415 kilometers north of the capital, Dhaka. After the attack, Fr. Parolari underwent surgery in Dinajpur Medical College Hospital, but was later flown to Combined Military Hospital in Dhaka for better treatment.
A statement posted on a militant website Friday says the priest was shot several times with a gun fitted with a silencer.  IS accused the 57-year-old priest of what it called ``Christianizing campaigns.'' The Islamic State radio, al-Bayan, also reported the claim. In Dinajpur, police detained 11 members of the hard-line Islamist Jamaat-e-Islami party for questioning over Father Piero's attack. Police have tightened security in all churches and the homes of foreign missionaries since the attack, said Dinajpur police chief Ruhul Amin. IS has claimed responsibility for the two earlier attacks on foreigners in Bangladesh but the government says the extremist Sunni militant group does not have a presence in the country. 
"The (Islamic State) claim of attacking Father Piero is shocking and a matter of concern for us. We have been living in fear and restricted our movements since the attack," said Father Anthony Sen, parish priest of Queen of Fatima Church in Thakurgaon district in Dinajpur Diocese.  On Nov. 18, hundreds of Catholics staged a demonstration in northern Rajshahi to protest the attack.  The Catholic bishops' Justice and Peace Commission and the Bangladesh Christian Association will jointly hold a protest rally on Nov. 21 in Dhaka.  "We don't know what the extremists want to achieve by attacking the church and missionaries but it has become a matter of grave concern. We ask the government to investigate the case properly and punish the attackers, no matter who they are," said Theophil Nokrek, secretary of the Justice and Peace Commission.
Attacks on Christians and priests are rare in Bangladesh. However, in early October, a Bangladeshi Protestant pastor narrowly escaped death after three members of the banned local militant outfit Jamaatul Mujahedin Bangladesh tried to slit his throat.  Once considered a moderate Muslim-majority country, Bangladesh has seen a rising tide of radical Islamist violence in recent times. (Source:UCAN/ AP)